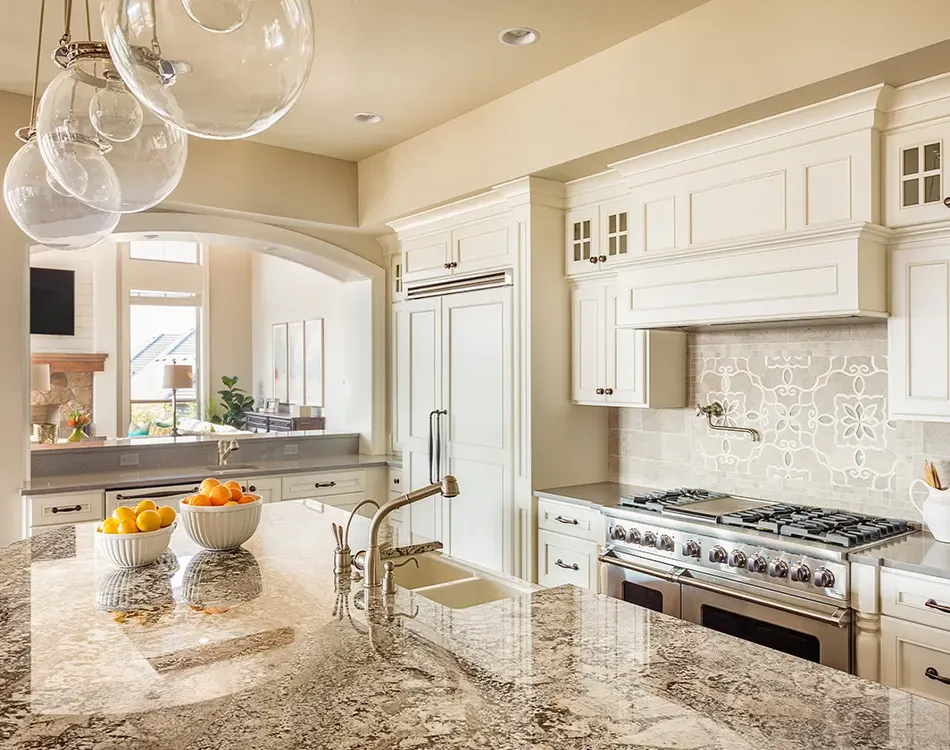 Are you in the process of remodeling your kitchen? Are you struggling to decide on the best kitchen countertop materials for your space? From quartz and quartzite to laminate and ceramic tile, there are so many options available that it can be difficult to narrow down the choices for your kitchen remodeling project.
To help you out, we gathered a list of the 20 best kitchen countertop materials. After reading this article, you'll know the pros and cons of each kitchen countertop material so you'll be able to make an informed decision.
Read on to learn more about each type of countertop and find out which one will work best for your home! And if you need advice on how to replace your current countertops, be sure to check out our guide on how to replace kitchen countertops.
The 20 Best Kitchen Countertop Materials
It's time to upgrade your kitchen countertop. But with so many materials available, it can be difficult to know which is best for your specific needs. Let's explore the top 20 best kitchen countertop materials.
1. Quartz (Engineered Stone)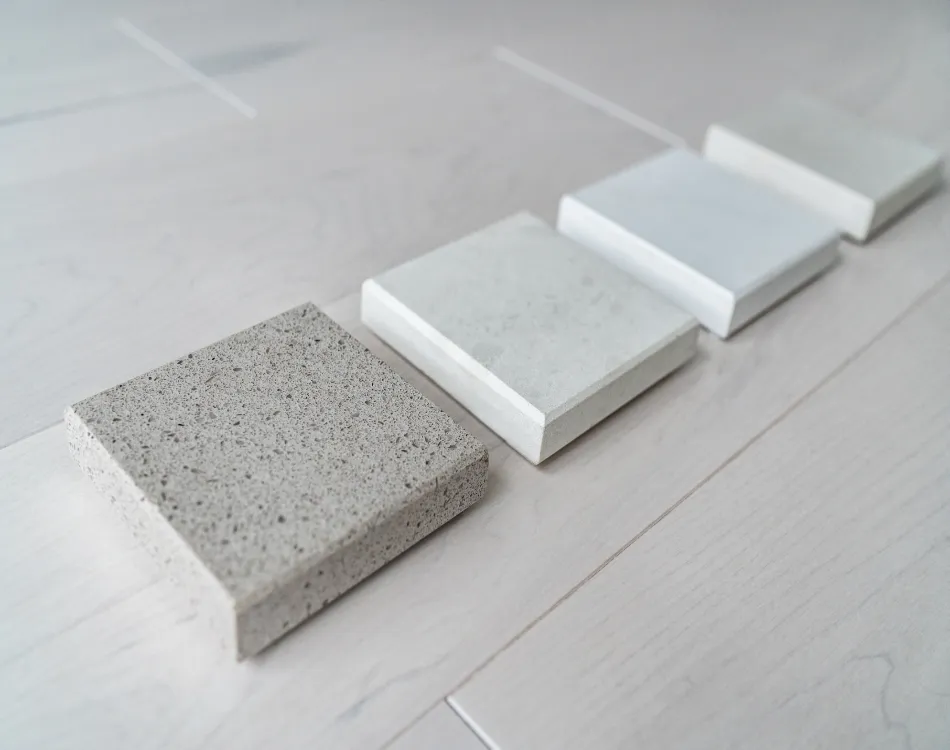 Quartz is one of the best kitchen countertop materials out there. Quartz is an engineered stone made from a combination of ground quartz with resin binders and pigments. Typically 90 percent of a quartz countertop consists of actual quartz, while the remaining 10 percent is made up of resin binders, pigments, and other materials.
Pros:
Available in a wide variety of colors and patterns
Extremely durable
Stain resistant
No sealing is required (unlike many natural stone materials)
Consistent and uniform material since it is manmade
Cons:
Expensive
Not as heat-resistant as natural stone
Very heavy, so it can be difficult to do a DIY install
2. Quartzite
Quartzite is a metamorphic rock formed when quartz-rich sandstone is subjected to intense heat and pressure, making it incredibly durable. It is a natural stone like granite but harder and more durable than granite. Its hardness makes it highly resistant to scratches and chips, while its attractive appearance makes it perfect for adding style to any kitchen design.
Pros:
Very durable
Impervious to heat
Beautiful organic colors and patterns
Cons:
Expensive
Requires regular sealing to prevent staining
Limited colors and patterns
3. Granite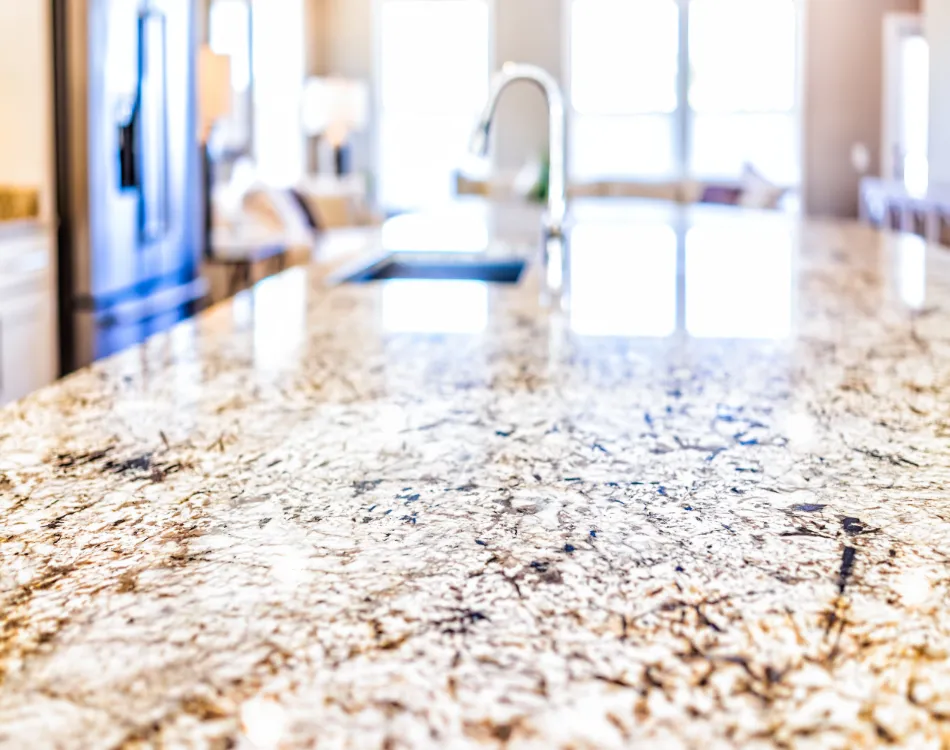 Granite is a natural stone that has been used as a countertop surface for centuries. Granite countertops are composed mainly of quartz and feldspar, which makes them highly resistant to heat and scratches, making them ideal for use in kitchens. When it comes to granite kitchen countertops, you have two main style options: polished or honed.
Polished Granite
Probably the most popular style of granite is polished granite, which has a glossy appearance and smooth texture.
Honed Granite
Honed granite has a matte finish that gives it a more subdued appearance than traditional polished granite.
Pros:
Heat resistant
Durable
Attractive
High-end appearance
Cons:
Expensive
Requires regular sealing to prevent staining
Limited color options
Very heavy, so DIY installation is difficult
4. Butcher Block
Butcher block offers a classic and timeless look and works especially well in farmhouse-style kitchens. It's made from strips of solid hardwood glued together in attractive patterns and provides beautiful grain details that you won't get with other materials like granite or quartz.
Pros:
Easy to clean, relatively low-maintenance
Classic kitchen aesthetic
Easily repairable (just sand and reseal)
Cons:
Vulnerable to damage (cracking, staining, cuts)
Somewhat expensive
Must be oiled frequently to prevent cracking
5. Wood
Wood countertops add beauty, warmth, and character to kitchens, making them one of the best kitchen countertop materials on the market. The natural features of wood can vary widely due to the type of wood, species, color, and grain–meaning you can customize it to best fit your design style.
Pros:
Many types and color options
Beautiful, classic look
Easily repairable (just sand and reseal)
Cons:
Requires regular resealing
Not impervious to heat damage
It can be expensive (depending on the type of wood selected)
6. Marble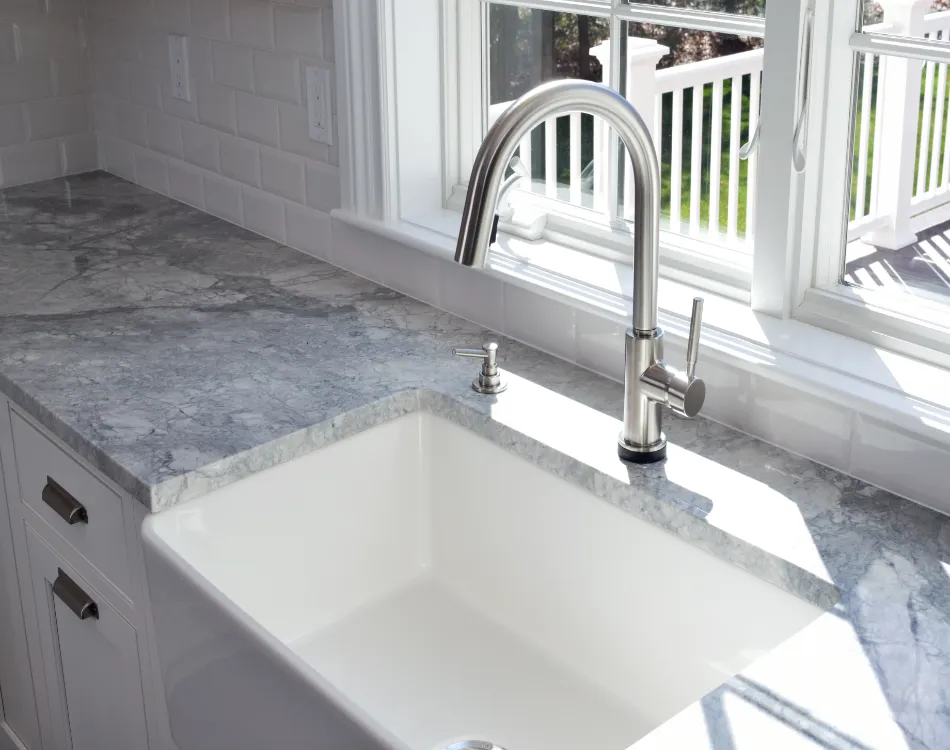 Long considered a luxurious stone material, marble has been used in various kitchen projects for centuries. Its natural veining patterns and unique texture makes it sought after by homeowners looking to add timeless elegance to their space.
Pros:
Heat resistant
Beautiful and luxurious aesthetic
Can boost home value
Cons:
Porous stone requires regular sealing to prevent staining
Expensive
Vulnerable to scratches, not as hard as other natural stone materials
7. Soapstone
Soapstone provides a visually appealing and resilient material for kitchen countertop material. Soapstone is made of quartz and talc, which feels smooth and silky to the touch. Unlike many other natural stone countertop materials, soapstone has a nonporous surface that resists most stains without the need for sealing.
Pros:
Unique silky texture
Does not require sealing
Has an antique aesthetic that works well in certain kitchen styles
Nonporous quality makes it naturally resistant to bacteria
Cons:
Vulnerable to denting and scratching
Limited color selection (typically only available in shades of gray)
Color will become darker over time
Must be occasionally treated with mineral oil
8. Ceramic Tile
Ceramic tile has long been used as a kitchen countertop material, especially since it is highly impervious to heat and durable. It's available in a variety of colors, sizes, patterns, and styles to best meet the design needs of any kitchen.
Pros:
Many color and style options
Easy to clean
DIYers can install
Impervious to heat
Cons:
Tiles can crack if heavy objects are dropped on them
Grout between tiles is vulnerable to staining
Some tile types can be expensive
Utilitarian aesthetic–viewed as a less luxurious countertop material
9. Concrete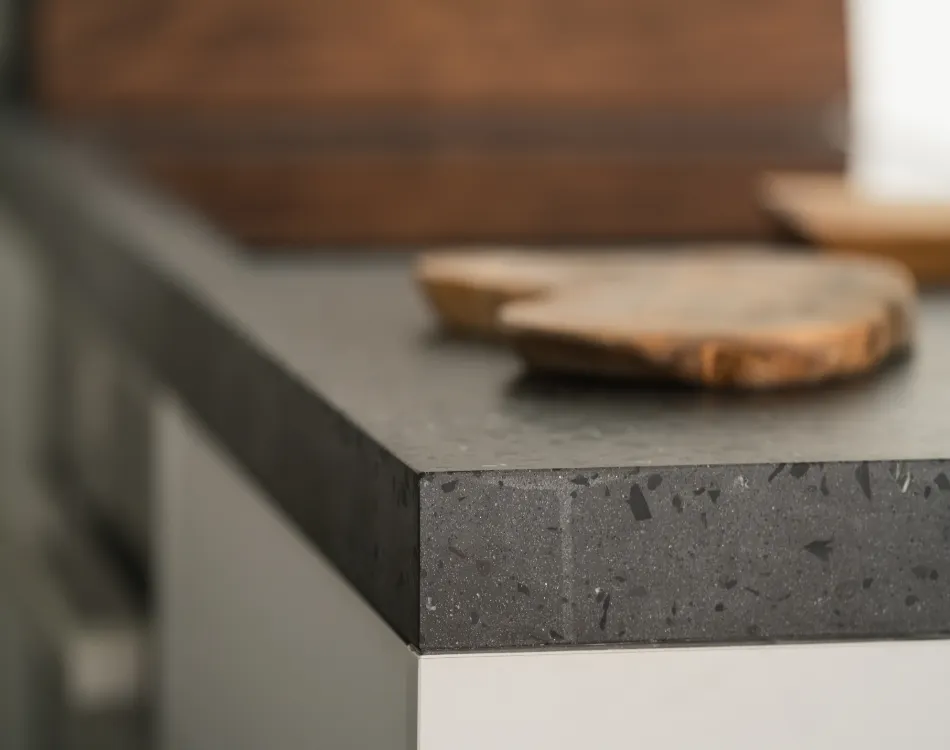 Concrete is a highly customizable countertop material that is available in an array of colors and finishes. It is extremely resilient against scratches and chipping that plague many other kitchen countertop materials.
Pros:
Available in many color tints and textures
Affordable
Resistant to scratches and heat damage
Unique contemporary aesthetic
Cons:
Low stain resistance
Needs to be regularly resealed
It can be perceived as a low-end material
10. Laminate
Laminate countertops offer an excellent balance of practicality and cost for a kitchen countertop material. Laminate countertops are made of laminate sheets bonded to particle board and are available in a wide array of colors and patterns, making it easy to match the style and design you have in mind for your kitchen.
Pros:
Affordable
Many color and pattern options
Easy to maintain
Easy to install for DIYers
Cons:
Viewed as a low-end countertop material
Vulnerable to scratching, chipping, and heat damage
Damage is difficult to repair
11. Solid-Surface
Solid-surface countertops are manufactured from manmade materials consisting of acrylic particles and resin binders. It is sold under various brand names and comes in a wide array of colors and textures.
Pros:
Durable
Many color and pattern options
Nonporous and stain resistant
Easy to clean
Cons:
Somewhat expensive–depends on the selection
Not heat resistant
It may be considered lower-tier material even though it's not
12. Stainless Steel
Stainless steel countertops offer a sleek, modern look that pairs well with almost any style kitchen. Installing stainless steel is a great way to add style and functionality to your space, and its stain-resistant, rust-proof nature makes it a low-maintenance material to keep your kitchen looking fresh and clean.
Pros:
Impervious to heat
Hygenic and easy to clean
Considered a high-end material
Cons:
Vulnerable to scratches
Noisy compared to other countertop materials
Expensive
13. Glass
Sleek and stylish, glass counters convey an air of modern sophistication and can be customized with nearly any hue or pattern for a unique look.
Pros:
Nonporous and impervious to stains
Easy to clean
High-end aesthetic
Cons:
Vulnerable to scratches
Expensive
If damaged, difficult to repair
14. Travertine
Travertine is a type of limestone formed from calcium carbonate deposits around mineral springs. It has been a popular building material since ancient times–the Colosseum in Rome is actually made mostly of travertine. Travertine is found in a variety of warm neutral hues, including ivory, beige, and peach tones.
Pros:
Naturally beautiful stone
Perceived as a high-end material
Classic old-world aesthetic
Cons:
Not a consistently uniform material–often pitted as a result of how it is naturally formed
Porous so requires regular sealing
Somewhat expensive
Susceptible to scratches
15. Silestone
With a wide range of styles, from muted to expressive, Silestone gives homeowners plenty of options for creating stunning custom looks for their countertops. Silestone is a brand of engineered quartz countertop material, so it shares many of the same pros and cons associated with that countertop material.
One unique aspect of Silestone is that it contains Microban, an antimicrobial product that gives this countertop material extra protection against bacteria.
Pros:
Hygenic, antimicrobial qualities
Many color and style options
Durable
Stain resistant
Consistent and uniform material since it is manmade
Cons:
Somewhat expensive
Not impervious to heat due to resin binders
16. Mixed Material Kitchen Countertops
Mixed material countertops are the use of more than one countertop material to create a one-of-a-kind look for your kitchen. This is often done in areas of a kitchen that have different functions. For example, someone might use butcher block in a food prep area but feature travertine in an area used primarily for eating.
Pros:
A fantastic way to create a unique kitchen design
Allows you to take advantage of different materials for different uses
Cons:
Can clash with other materials if done incorrectly
It may not appeal to all homeowners
17. Onyx
Onyx is a silicate mineral material that has a beautiful luster and semi-translucent appearance. It comes in a wide variety of colors and typically features a banded pattern.
Pros:
High-end luxurious appearance
It can be backlit for a dramatic glowing look
Colorful veining and banded pattern make it uniquely beautiful
Cons:
Vulnerable to acids and bases–not practical as a kitchen workspace material
Brittle and chips easily
Expensive
Susceptible to scratches
18. Brazilian Blue Stone
Brazilian blue stone is a beautiful form of quartzite that is mined in Brazil. Its main appeal is its gorgeous blue color, often mixed with bands of brown. Since it is a type of quartzite, it shares the same pros and cons associated with that material.
Pros:
Very durable
Impervious to heat
Gorgeous blue and brown colors and patterns
Luxurious appearance
Cons:
Expensive
Requires regular sealing to prevent staining
It may be difficult to match with some kitchen designs
19. Terrazzo
Terrazzo is a composite countertop material made with chips of marble, quartz, granite, glass, or other material and a cement-based binder. It has almost endless color and pattern options, so you're bound to find one that matches your kitchen decor.
Pros:
Heat resistant
Durable
Eco-friendly since it reuses chips that would otherwise be discarded
Cons:
Unique spotted appearance may not appeal to everyone
Some may consider terrazzo a dated trend
Can be expensive
20. Recycled Kitchen Countertops
Recycled kitchen countertops are created from different types of post-consumer waste, including concrete, glass, paper, composite, or plastic. Depending on its ingredients, this unique material can provide a range of design possibilities ranging from intense colors to classic patterns.
Pros:
Durable
Eco-friendly
Many color and pattern options
Cons:
Limited heat resistance for some materials
It may be perceived as low-end material
Build Your Dream Kitchen With Home Pride Construction
No matter what type of kitchen countertop material you choose–from quartz and marble countertops to laminate and ceramic tile–it's important that you select one that works well with the overall design of your space while still being durable enough to stand up against daily wear-and-tear. Hopefully, this list helps narrow down your choices so you can find the perfect countertop material for your kitchen renovation!
If you're ready to start remodeling your kitchen to build the space of your dreams, the experts and Home Pride can help. Just fill out our contact form today, and we will get back to you as soon as possible. Thank you for choosing us!