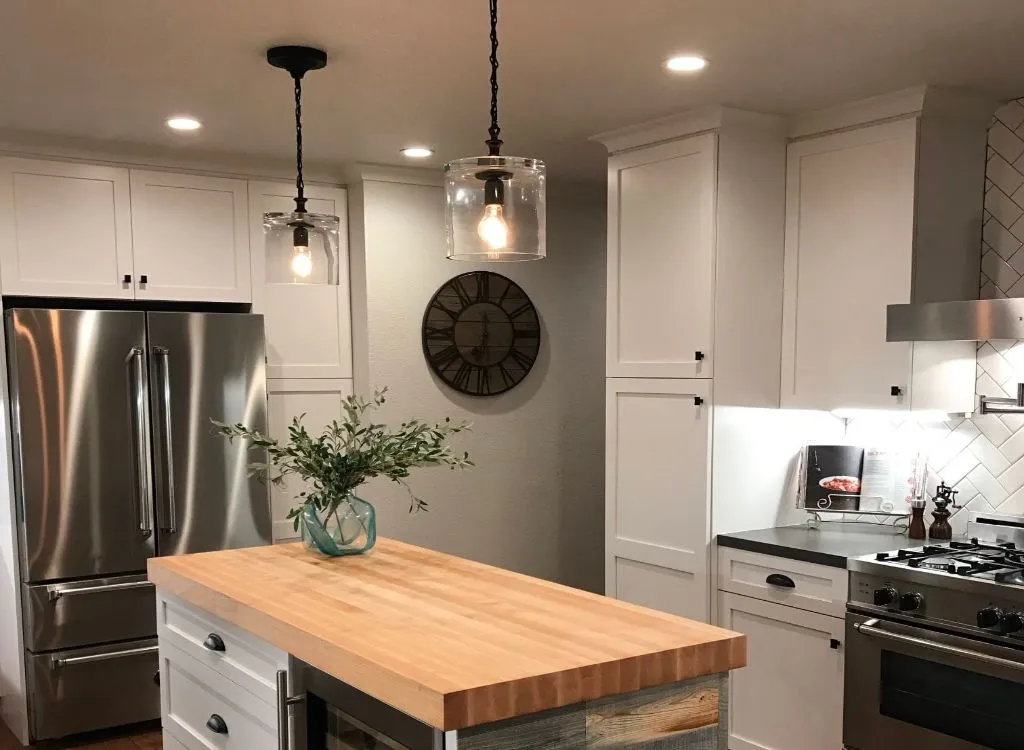 Are you tired of a dimly lit kitchen island? Or are you thinking about getting a kitchen remodel for your Pacifica home to get an upgrade in style and functionality?
We've got your back.
In this post, we'll guide you through 8 key factors to consider when choosing the perfect kitchen island lighting. By the end, you'll be ready to make your kitchen shine with confidence!
Things To Consider When Choosing Kitchen Island Lighting
The kitchen is the heart of many homes, and how you furnish it is essential to creating the perfect atmosphere.
Whether you want your island to be the focal point of the kitchen or have enough illumination for occasional entertainment, your kitchen island lighting selection plays a big part in achieving your goals.
For homeowners with islands, lighting is crucial to make this area of the kitchen pop.
When selecting the ideal island lighting, there are many things to consider.
Although choosing the right fixtures is challenging with so many options available, the following factors will ultimately affect your final decision and help you find the best lighting.
1. The Kitchen Island's Size
One of the first things homeowners should consider is how much space they have for lighting. Your island's size will ultimately determine this.
Measure its length, width, and height to find the ideal light fixture.
The perfect kitchen island lighting shouldn't extend beyond the perimeter of your island.
It's best to know your kitchen island's dimensions to avoid choosing lights that are too big.
Knowing the island's measurements will also help you determine how many lights can fit.
Keep in mind that larger islands typically need more lights or larger fixtures to illuminate the entire space.
For example, pendant lights or chandeliers might be better suited for longer islands, while smaller islands might only need a few well-placed lamps.
2. The Light Fixture's Height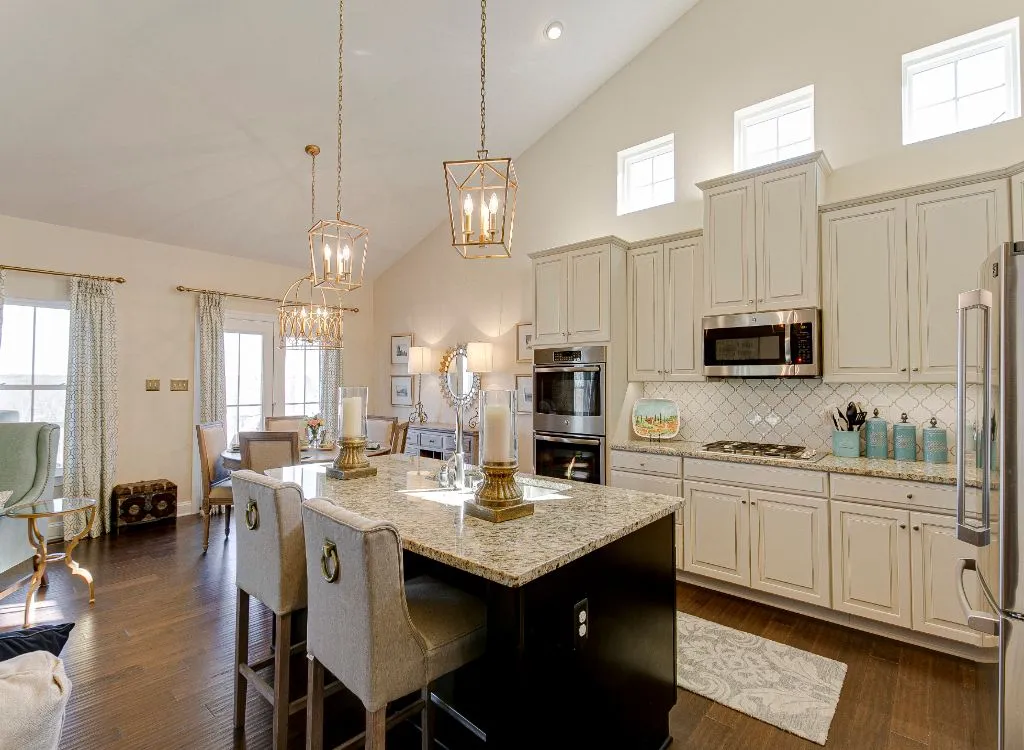 Next, think about the ideal height for your light fixture.
You want it to hang at a level that provides adequate lighting while maintaining a comfortable clearance for people to walk and work under.
A light fixture that's too low could obstruct your vision, while a fixture that's too high won't light the space properly.
A good rule of thumb is to allow for 30 and 36 inches of space between the island's countertop and the bottom of the fixture. This ensures that your pendant lights, chandeliers, or other fixtures won't be too low or too high.
Many homes have a floor-to-ceiling height of nine feet.
Therefore, lights should hang around six feet above your kitchen's floor.
However, if you choose low-hanging lights, you'll need to adjust your calculations accordingly by subtracting six feet from your total room height.
3. Costs
Your budget is another critical factor in determining which fixtures you'll get.
When shopping for kitchen island lights, keep your budget in mind.
Prices can range from affordable options like simple pendant lighting to more expensive, high-end chandeliers.
More expensive options will limit how many fixtures you can afford. Decide how much you can spend on each fixture by dividing your budget by the total number of lights you need.
The last thing you want is to select an alternative that's too much of a stretch for your finances.
Not all kitchen island lighting is expensive. Affordable options exist that are just as attractive as high-end light fixtures.
Industrial pendant lights, for instance, can offer a stylish and budget-friendly choice.
It's essential to balance style, functionality, and cost when choosing the perfect island lighting for your kitchen.
4. The Island's Functions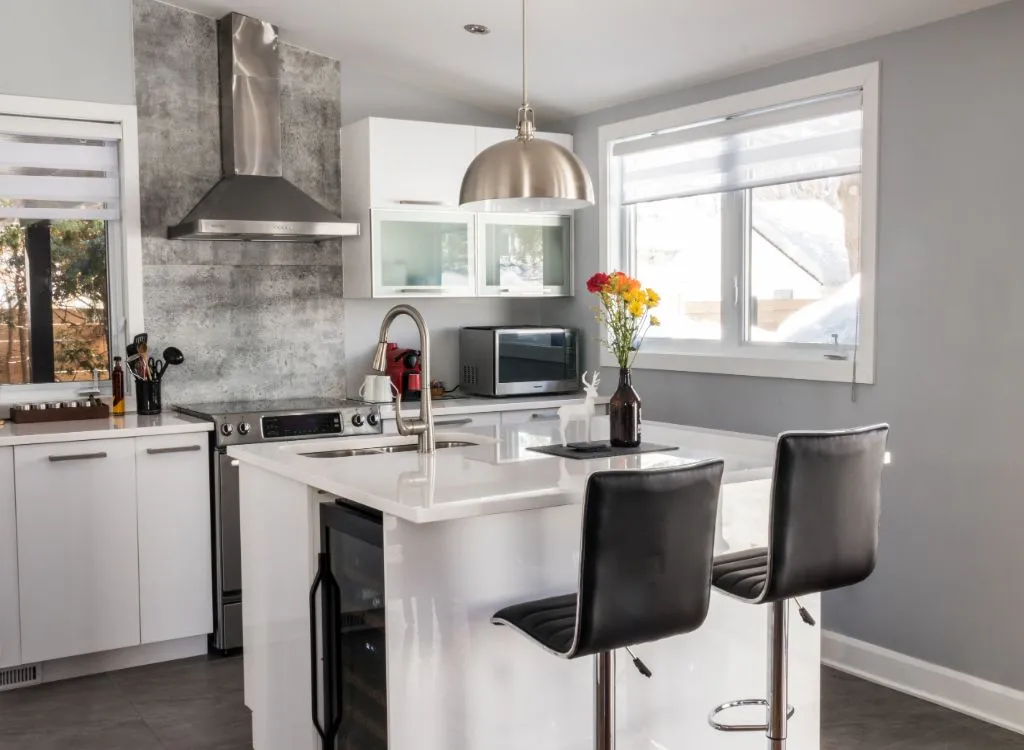 What purposes does your kitchen island serve? Is it a cooking station, dining area, or both?
Understanding your island's functions can help you choose the right lighting to suit its specific needs.
For example, if your island is primarily a workspace, you might want to install bright, focused lights for optimal visibility. Brighter, more open fixtures will shed ample light for various tasks on your island.
Conversely, if it's a dining area, softer ambient lighting might be more appropriate. More enclosed bulbs with glass shades provide a gentle glow.
Additionally, consider a dimmable option to take advantage of your lighting's versatility.
Specific tasks require enough light for you to complete them safely, and island lighting offers exactly this.
Choose lighting that will fit the primary function of your island.
5. Lighting Purpose
Consider the primary goal of your kitchen island lighting.
Are you looking to illuminate the entire space, provide task lighting, or create a cozy ambiance?
Knowing your lighting goals will help you find the right fixture style and brightness.
For instance, pendant lights with adjustable cords can be ideal for task lighting, while chandeliers can create a warm, inviting atmosphere.
Not all lights have the same purpose. Do you want an accent light, or do you want your island to be the focal point of your kitchen?
Consider adding color to make your island pop. Pick vibrant light fixtures that match the rest of your kitchen's theme to draw the eye to it.
Alternatively, use muted colors to soften the focus away from the island and provide ambiance to a busy kitchen.
6. Fixture Amount and Placement
The number of fixtures and their placement can dramatically impact the look and feel of your kitchen island.
However, your island's size limits how many fixtures you can hang above it.
Since it's best practice for fixtures to fit directly above the island, your planned lighting scheme and placement will also determine how many you can fit.
Plan how many lights you need and where they should be positioned to achieve the desired effect.
For instance, spacing pendant lights evenly along the island can create a balanced, visually appealing look.
Depending on the fixture's size, it's common to fit two to three above your island.
Large islands may accommodate four lights.
Even if your kitchen already has lighting, having multiple fixtures above your island is beneficial as it gives options between lighting the whole room and a portion.
You can also choose a chandelier if you want one larger light fixture above your island.
The lighting placement and scheme help set the mood. Direct lighting is perfect for working at the island, while angled lighting adds natural illumination without leaving you in the dark.
Don't be afraid to experiment with different configurations to find the perfect arrangement.
7. Lighting Type
There are several different lighting types available.
Explore the various types of island lights available, such as pendant lighting, chandeliers, or even track lighting. Each type offers unique advantages and styles.
The best type for your kitchen island will depend on the available space, your kitchen's style, and your preferences.
Your kitchen island lighting type will also determine how many fixtures you can afford and fit above your island.
Common options include pendant lights for their singular hanging fixture style and chandeliers for homeowners who want an elegant and intricate lighting solution.
Pendant lights are versatile and can be found in a wide range of colors, finishes, and shapes.
Chandeliers can provide a more dramatic, artistic view.
These are the two most popular options offering a luxurious feel. They also provide many different fixture styles to suit various décors.
Track lights allow you to change the ambiance and lighting scheme while the fixtures remain higher up, tucked out of the way. They work well in minimalist and modern kitchens.
Determine which type of lighting best suits your kitchen's design and your personal taste.
8. Dimming Capabilities
Ambient lighting is ideal for setting the mood for entertaining guests but may not provide enough illumination for everyday tasks.
Homeowners should also consider whether they want to create ambient light through a dimmer switch or choose kitchen island lighting with an overall ambient style.
Adding dimming capabilities to your kitchen island lighting can increase its versatility and functionality.
By installing a dimmer, you can get ambient light when you want it and brighter light when you need it. This versatility helps you save on other lighting solutions.
Dimmable lights allow you to easily adjust the brightness, making your island perfect for both work and relaxation.
Be sure to choose fixtures and bulbs compatible with dimmer switches for the ultimate in flexibility.
Have Fun With Your Kitchen Island Lighting
Don't be afraid to get creative with your kitchen island lighting!
Mix and match different styles, colors, and finishes to achieve a unique, personalized look.
Let your lighting choices reflect your personality and add a touch of flair to your space.
Remember, lighting is not just about functionality but also about making a statement and enhancing the room's overall atmosphere.
Kitchen lighting isn't limited to bland, tasteless ceiling lights.
The island is one of the busiest places in the heart of the home's entertainment hub. With kitchen island lighting, you can draw attention where you want it and set the ideal mood for your space.
Impress your friends and family and transform your kitchen's mood with stylish kitchen island lighting.
If you need help throughout the selection process, refer to this blog to make things easier!
Enhance Your Kitchen's Ambience With Island Light Fixtures
Choosing the perfect kitchen island lighting involves considering the size of your island, the height of the fixtures, your budget, the island's functions, your lighting goals, the number of fixtures and their placement, the type of lighting, and dimming capabilities.
Here at Home Pride Construction, we take pride in our luxury kitchen remodeling services. We can help you remodel your kitchen and transform it into the beautiful, functional space you've always dreamed of.
With our expertise, you'll have the perfect kitchen island lighting to enhance your home. Fill out our contact form today or give us a call, and let's get started on creating your dream kitchen!