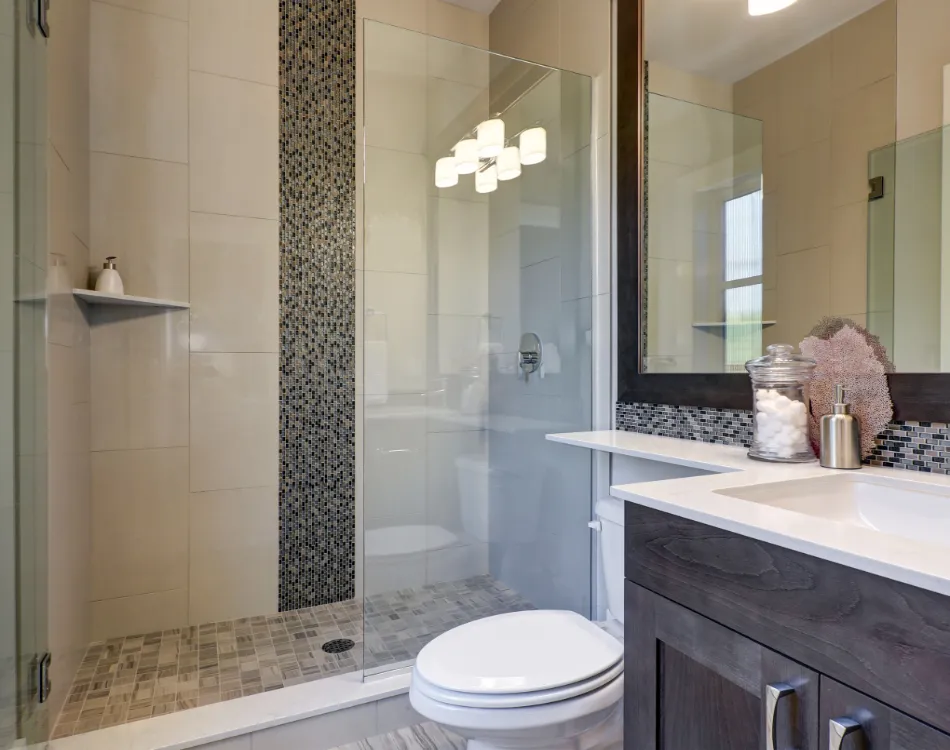 Bathrooms are often overlooked when it comes to home improvement projects. But given how much time we spend in them, they deserve a little TLC too! Luckily, there are plenty of easy bathroom upgrades you can do that will make a big impact.
10 Easy Bathroom Upgrades
When it comes to making your bathroom look and feel its best, there's no need to break the bank. With a few simple upgrades, you can be the interior designer that takes your space from meh to major in no time.
Not sure where to start? Check out these 10 easy (and affordable) bathroom upgrades that will make a big impact.
Bathroom Upgrade vs Remodel: What's The Difference?
Before we delve into our list of easy and affordable bathroom upgrades, let's take a moment to define the difference between a bathroom upgrade and a bathroom remodel.
Bathroom Upgrade
A bathroom upgrade is typically a less extensive (and less expensive) project that focuses on specific elements of the bathroom. For example, you might replace a bathroom vent fan, repaint the walls, or install new bathroom fixtures.
Bathroom Remodel
A bathroom remodel, on the other hand, involves more significant changes to the bathroom layout and design. This might include reconfiguring the space, adding or removing walls, and installing new bathroom fixtures like a shower or tub. Bathroom remodels can be costly and time-consuming projects, so it's important to plan carefully before embarking on one. Either way, bathroom remodels tend to be much more expensive than bathroom upgrades.
Now that we've covered the difference between bathroom upgrades and bathroom remodels, let's start our list of easy bathroom upgrades!
1. New Shower Curtain Or Door
One of the quickest and easiest ways to upgrade your dated bathroom is to swap out your shower curtain or door. By replacing an old, worn-out shower curtain or door, you can instantly make your bathroom feel more spacious and luxurious. Plus, there are many different styles and designs to choose from, so you can easily find one that fits your personal taste and budget.
Another option is to switch from one type of shower enclosure to another. For example, if you have a shower door, try replacing it with a shower curtain for a softer look. This is only one example of shower upgrades you can do.
If you already have a shower curtain, consider changing it out for a new style or pattern. This is an easy way to experiment with different looks without having to make any permanent bathroom upgrades.
2. Update Your Lighting
Updating your lighting is another easy way to give your bathroom an instant upgrade. A well-lit bathroom can make the space feel larger and more inviting. While functional bathroom lighting is important, don't forget about the aesthetic value as well.
If you have old, outdated light fixtures, try swapping them out for something more modern. Try adding some sconces on either side of the mirror for a tad more flair. Or, if you want to add some extra ambiance, install dimmer switches so you can adjust the mood of your space at any time.
When choosing new fixtures, be sure to consider the size and scale of the room. The last thing you want is for your bathroom to feel cramped and cluttered.
3. Install Wainscoting Or Beadboard
Wainscoting is simply a decorative paneling that covers the lower half of the wall and can give your bathroom a more polished look. Beadboard is similar but has a more textured look and consists of vertical slats instead of panels. Both are relatively easy to install and will instantly upgrade your bathroom's appearance.
Both wainscoting and beadboard can be made from a variety of materials, including wood, PVC, and composite. They also come in a range of styles to suit any décor. Best of all, they're relatively easy to install, so you can do it yourself in just a weekend.
4. Get New Hardware
Updating the hardware in your bathroom is a quick and easy way to give the space a fresh new look. Hardware includes things like towel bars, toilet paper holders, shower curtain hooks, cabinet knobs, and drawer pulls.
Just swapping out these small things can make a huge difference in how your bathroom looks and feels. Plus, it's one of the simplest bathroom upgrades that anyone can do!
5. Restore Your Old Hardware
If you're not looking to replace all of your bathroom hardware, simply restoring it can also have a big impact. This means sanding down any rust or gunk that's built up over time and then repainting or re-staining it so it looks brand new again.
This works especially well with older hardware that has intricate details that might be difficult to find in stores today. It's an inexpensive way to give your bathroom an instant facelift without spending any money on new hardware.
6. Fresh Coat Of Paint
A fresh coat of paint on a wall space is always transformative, no matter what room you're painting. Whether you repaint the entire room or just touch up the trim, painting is an easy (and relatively inexpensive) way to refresh any space in your home.
When choosing bathroom paint colors, consider the size of the bathroom and the amount of natural light it receives. For small bathrooms with limited floor space, light colors can help to make the space feel airy and open. Also, think about how it matches with other parts of your bathroom, such as your bathroom floor and cabinets.
If you have a standard-sized bathroom, you may want to experiment with bolder shades. For large bathrooms, dark colors can create a cozy and intimate atmosphere. Don't forget to add an extra coat of paint to the ceiling for a polished look. Whatever color you choose, be sure to use high-quality paint that will withstand years of use on your bathroom walls.
7. Replace Your Old Sink
If you're looking for more substantial bathroom upgrades than just a fresh coat of paint, replacing your old sink with a new one can make a big impact on any bathroom, especially small ones where every inch counts!
This project will take some time (and possibly professional help), but the results are worth it when you see how much bigger and brighter your space looks afterward. From double sinks with modern fixtures to pedestal sinks with classic fixtures, sinks come in all different shapes, sizes, colors, and materials nowadays.
8. Upgrade Your Toilet
While replacing an entire toilet might seem like a daunting task, it's actually not as difficult as you might think. If you're working with an older model toilet, upgrading to a newer, more efficient one will save you money in the long run on both water bills and repair costs.
For small bathrooms, you might want to choose a compact model that doesn't take up too much space. If you're looking for a more eco-friendly option, consider a dual-flush toilet that uses less water per flush. If you want a bathroom that looks straight out of a magazine, there are plenty of stylish options to choose from for your bathroom upgrades.
9. Find Your Perfect Storage Cabinet
A storage cabinet can help you organize your bathroom and keep it tidy while also providing a place to store away bathroom necessities. Not only will this make your bathroom more functional, but it will also help it to look more polished and put together.
When choosing a storage cabinet for your bathroom, there are a few things to keep in mind. First, consider the size of the bathroom and the amount of storage space you have available. Then, think about what will be stored in the cabinet and choose a style that fits your needs. Finally, think about the overall look of the bathroom and choose a cabinet that complements your bathroom décor.
Whether you opt for a sleek and modern cabinet or a more traditional design, there are plenty of options to choose from.
10. Update Your Fabric Features
Finally, don't forget about those little details that make all the difference! Things like towels, bath mats, shower curtains, and window treatments might seem inconsequential, but they can actually have quite an impact on how your bathroom looks and feels.
Swapping out old, worn-out ones for fresh ones can breathe new life into even the most tired of bathrooms. Plus, fabric features are relatively inexpensive, so you can experiment with different styles until you find the perfect look for your bathroom upgrades.
When shopping for new bathroom fabrics, keep in mind both function and style. Towels, for example, should be soft and absorbent, while shower curtains should be made of waterproof material. As far as style goes, it's all about personal preference.
Upgrade Your Bathroom With Home Pride Construction
Whatever style or budget you have in mind for your next bathroom upgrades project, there's sure to be an option on this list that's perfect for you. So get started today and see how easy (and affordable) it can be to transform your space into the bathroom of your dreams.
However, if you're looking for a more complete bathroom transformation, fill out our contact form today. We'd be happy to help you with your bathroom remodeling project from start to finish.