Building a better future for families in Pacifica, the Bay Area, the Peninsula, and surrounding areas for more than 35 years
Your Luxury Kitchen Remodeler
In San Bruno
Transforming San Bruno Kitchens into Exquisite Spaces with Expert Remodeling Services
Create a Distinctively Styled Kitchen in San Bruno
In San Bruno, you have the opportunity to create a personally styled kitchen that reflects your unique taste and preferences with the expertise of a skilled kitchen remodeler.
By collaborating with a professional remodeler, you can bring your vision to life and transform your kitchen into a space that resonates with your individual style. From selecting the perfect cabinetry and countertops to choosing the ideal lighting fixtures and backsplash, every detail can be carefully curated to create a cohesive and personalized design.
Our team of skilled kitchen remodelers will guide you through the process, offering valuable insights, innovative ideas, and expert craftsmanship to ensure that your personally styled kitchen reflects your personality and enhances your lifestyle in San Bruno.
Most popular kitchen upgrades in San Bruno include:
Experience the Transformative Benefits of a Kitchen Remodel
Embarking on a kitchen remodel in San Bruno with the assistance of a professional kitchen remodeler offers numerous benefits. Firstly, it allows you to customize your kitchen according to your specific needs and preferences, optimizing functionality and efficiency.
A remodel enables the incorporation of modern appliances, energy-efficient solutions, and smart technology, enhancing your cooking experience and reducing utility costs. Additionally, a kitchen remodel elevates the aesthetic appeal of your home, creating a welcoming and stylish space that aligns with your taste.
With the expertise of a skilled kitchen remodeler, you can navigate the complexities of the project, ensuring a smooth and successful transformation that enhances both the beauty and functionality of your kitchen in San Bruno.
Our simple process is meant to give you peace of mind through every step of your kitchen remodel.

Call us or fill out our form and describe your ideas as best as you can. Don't forget to include a few pictures as well, so that we can fully understand your vision.
We'll get back to you with a phone consultation to talk more about your kitchen.

We'll come to your place and assess the space you want to transform. We'll take measurements and discuss the budget, timeline, and design aspects of your project.
Once every detail is set, we get to work and bring your ideas to life.

Step 3. Enjoy Your New Kitchen
Now that your kitchen finally looks like what you've dreamt of all along, it's time to cherish it with your friends and loved ones.
Gather everyone together and celebrate life in a kitchen that fosters connection.
Kitchen Remodeling Prices In San Bruno
Throughout our years in the industry, we've seen firsthand just how important kitchens are to a person's lifestyle and quality of life. It's where you gather your whole family and spend the most important moments in your life. Our kitchen remodelers are committed to creating the space you've always wanted with master design, craftsmanship, and professionalism.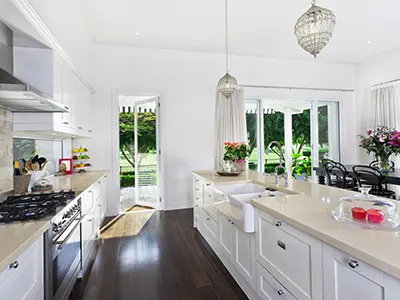 Includes new stock cabinets, new countertops, lighting, plumbing fixtures, and a new tile backsplash.
Includes semi-custom cabinets with soft-close hinges, upgraded backsplash and countertops, new appliances, and a minor layout change.
High-End Kitchen Remodel*
Includes high-end custom cabinets, upgraded countertops, premium appliances, and a major kitchen layout reconfiguration. Also includes removing load-bearing walls to open up the space.
*Prices are averages and may change depending on the size of your kitchen space and your choice of materials, amenities, finishes, and final touches. You'll receive an exact quote for your unique kitchen remodel after the in-house consultation.
Kitchen Remodel Cost Calculator
When you begin planning your kitchen renovation, you should know it's typical to spend between 7-15% of the home's value on remodeling work. If you own a $500,000 home in San Bruno, you can budget between $50K and $125K for your kitchen upgrade without losing too much of its resale value.
Besides the look you want and your favorite appliances, there are multiple factors that go into a full kitchen remodel:
Use our calculators to get a more defined idea of what your kitchen remodeling project will cost. We're here to help make this process both seamless and exciting!
Drag the sliders to adjust your values
Happy Homeowners Like You Say…
Through our work, we get to know our clients and meet their highest expectations and desires. Over the years, we've proved that high-quality work can only result from excellence and a high level of commitment. Here's what our happy customers say about us:​
Home Pride is the best of the best. They are polite, professional, and do a hell of a job!!
No complaints. The work is top-notch and really listen to all of your wants and needs, no
questions asked. I would highly recommend them for small or large jobs.
They remodeled
our complete house top to bottom and everything is still perfect 5 years later!!!
I bought a house in dire need of dealing with deferred maintenance. And I want to remodel the downstairs.
Home Pride Construction, Inc worked wonderfully with my sometimes vague and changing ideas. I am incredibly pleased with the results downstairs – now the upstairs looks even sadder and dated than before. I will be hiring Home Pride Construction to do the upstairs later this year.
The workmen were skilled, friendly, and professional.
The value of my house went up 15% after the remodel.
Home Pride Construction did an amazing job on our project. We doubled the square footage of our house adding a second story. They were easy to work with and completed the project on time within budget. We would highly recommend them!
Frequently Asked Questions
For Your San Bruno Kitchen Remodelers
Absolutely! Our skilled kitchen remodelers in San Bruno specialize in creating unique design concepts tailored to reflect your style and preferences. We work closely with you to understand your vision, incorporating custom elements, color palettes, and materials that showcase your individuality.
We'll also ensure that your new space functions how you need it, so whether you're prepping dinner or hosting a get-together, it's an enjoyable experience.
At Home Pride, we understand the importance of maximizing storage in your kitchen. We offer custom cabinetry with adjustable shelves and built-in organizers, ensuring every inch of storage is utilized effectively.
Our team can incorporate pull-out drawers and racks, corner cabinets with rotating shelves, and specialized compartments for utensils, spices, and cookware. We also provide solutions such as a walk-in pantry or a built-in pantry cabinet with ample storage capacity.
By tailoring storage options to your needs, we create a clutter-free and efficient kitchen that enhances your cooking experience.
Our skilled team of kitchen remodelers can assist you in achieving an open-concept layout by removing walls, reconfiguring the floor plan, and incorporating design elements that promote a harmonious flow.
With our expertise, we will carefully consider your specific space and requirements to create a functional and visually appealing design that seamlessly connects your kitchen with the surrounding areas.
Our goal is to enhance your home's overall functionality, spaciousness, and aesthetic appeal by integrating an open-concept layout.
A wide range of creative lighting options and fixtures will enhance the ambiance and visual appeal of your remodeled kitchen.
Pendant lights can serve as stylish focal points, providing functional illumination and a touch of elegance.
Under-cabinet lighting can add a warm and inviting glow while illuminating your countertop workspace.
Recessed lighting offers a clean and modern look, evenly distributing light throughout the kitchen.
Additionally, adjustable track lighting can provide flexibility in highlighting specific areas or features. We will work closely with you to understand your preferences and design goals, helping you choose the perfect lighting options and fixtures that complement your remodeled kitchen, create the desired atmosphere, and elevate its visual appeal.
Highlight The Character Of Your San Bruno Kitchen