Open Up Your Kitchen And Make It Brighter To Create A Family-Friendly Space
Building a better future for families in Pacifica, the Bay Area, the Peninsula, and surrounding areas for more than 35 years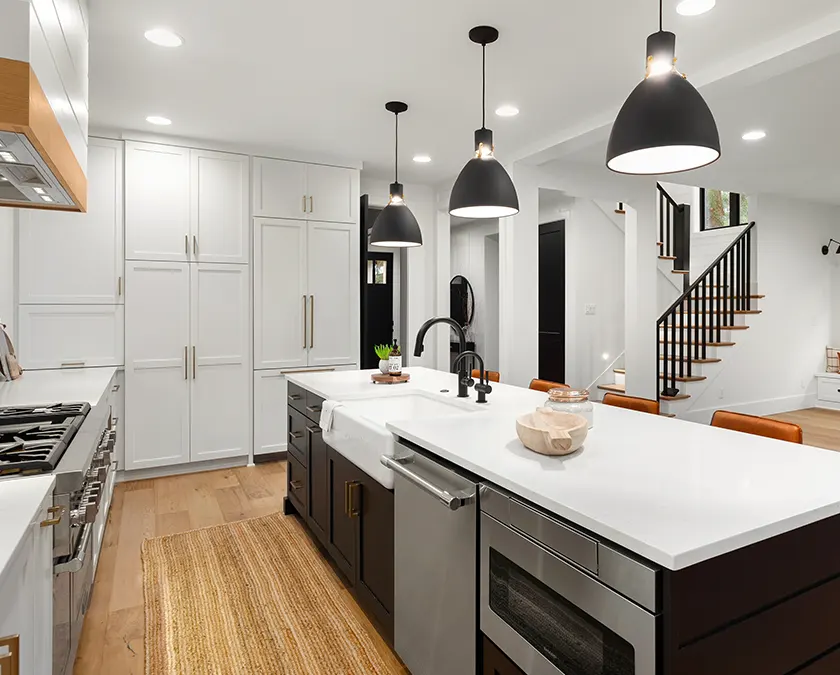 A Kitchen Big Enough For All Your Loved Ones
No matter how big your home is, everybody ends up in the kitchen. Whether it's for day-to-day activities, or important family reunions, the kitchen is the center of your home, so you want to make sure it's a pleasant space to be in.
If you feel your current kitchen needs a fresh look, perhaps it's time for an update. 
Open up your kitchen to make room for all the important people in your life. While you're at it, add extra functionality and use every inch your kitchen has to offer. We're here to help you transform your kitchen and give it a touch of elegance and style. It's your turn to have the dream kitchen you've always wanted.
Most popular kitchen upgrades include:
A Place For New Memories To Be Made
Cooking with and for your family is one of the most rewarding activities you can have at home. Imagine kneading dough with your kids on a large kitchen island that encourages them to be creative.
Although there's flour all over the place and eggshells scattered around, you don't even notice the mess. The smiles on your kids' faces and their happiness are all you need to have a good time. 
If your kitchen doesn't inspire you to bond with those around you, a new look will help you revive the space and make it more exciting. When you have every tool in the right place and your kitchen looks spectacular, you'll be able to focus on what's most important: spending quality time with your family.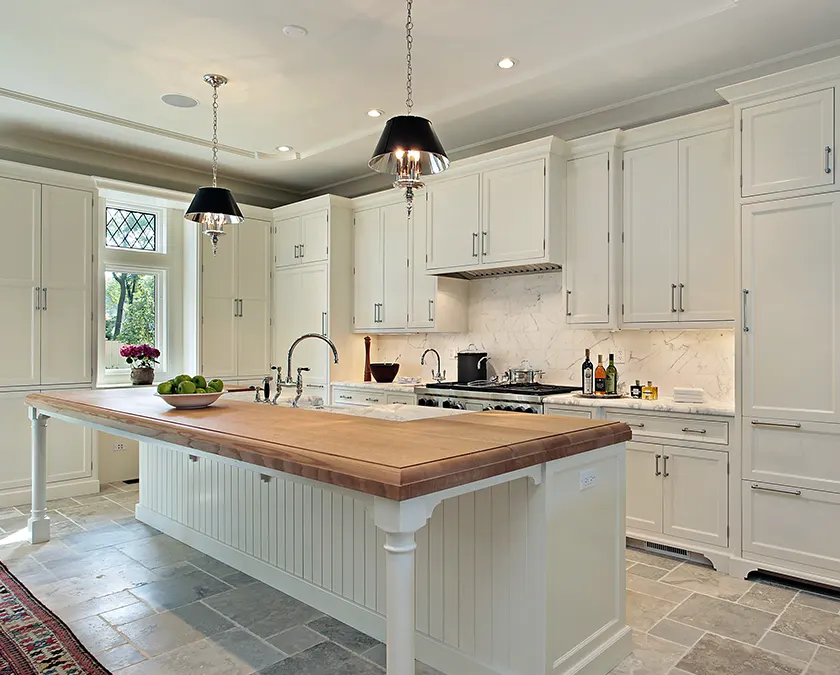 Our simple process is meant to give you peace of mind through every step of your home remodel.

Call us or fill out our form and describe your ideas as best as you can. Don't forget to include a few pictures as well, so that we can fully understand your vision.
We'll get back to you with a phone consultation to talk more about your kitchen.

We'll come to your place and assess the space you want to transform. We'll take measurements and discuss the budget, timeline, and design aspects of your project.
Once every detail is set, we get to work and bring your ideas to life.

Step 3. Enjoy Your New Kitchen
Now that your kitchen finally looks like what you've dreamt of all along, it's time to cherish it with your friends and loved ones.
Gather everyone together and celebrate life in a kitchen that fosters connection.
Kitchen Remodeling Prices
Throughout our years in the industry, we've seen firsthand just how important kitchens are to a person's lifestyle and quality of life. It's where you gather your whole family and spend the most important moments in your life. We are committed to creating the space you've always wanted with master design, craftsmanship, and professionalism.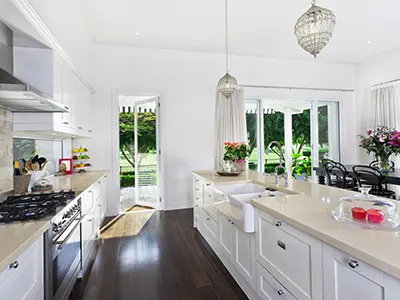 Includes new stock cabinets, new countertops, lighting, plumbing fixtures, and a new tile backsplash.
Includes semi-custom cabinets with soft-close hinges, upgraded backsplash and countertops, new appliances, and a minor layout change.
High-End Kitchen Remodel*
Includes high-end custom cabinets, upgraded countertops, premium appliances, and a major kitchen layout reconfiguration. Also includes removing load-bearing walls to open up the space.
*Prices are averages and may change depending on the size of your kitchen space and your choice of materials, amenities, finishes, and final touches. You'll receive an exact quote for your unique kitchen remodel after the in-house consultation.
Kitchen Remodel Cost Calculator
When you begin planning your kitchen renovation, you should know it's typical to spend between 7-15% of the home's value on remodeling work. If you own a $500,000 home, you can budget between $50K and $125K for your kitchen upgrade without losing too much of its resale value.
Besides the look you want and your favorite appliances, there are multiple factors that go into a full kitchen remodel:
Use our calculators to get a more defined idea of what your kitchen remodeling project will cost. We're here to help make this process both seamless and exciting!
Drag the sliders to adjust your values
Happy Homeowners Like You Say…
Through our work, we get to know our clients and meet their highest expectations and desires. Over the years, we've proved that high-quality work can only result from excellence and a high level of commitment. Here's what our happy customers say about us:​
Home Pride is the best of the best. They are polite, professional, and do a hell of a job!!
No complaints. The work is top-notch and really listen to all of your wants and needs, no
questions asked. I would highly recommend them for small or large jobs.
They remodeled
our complete house top to bottom and everything is still perfect 5 years later!!!
I bought a house in dire need of dealing with deferred maintenance. And I want to remodel the downstairs.
Home Pride Construction, Inc worked wonderfully with my sometimes vague and changing ideas. I am incredibly pleased with the results downstairs – now the upstairs looks even sadder and dated than before. I will be hiring Home Pride Construction to do the upstairs later this year.
The workmen were skilled, friendly, and professional.
The value of my house went up 15% after the remodel.
Home Pride Construction did an amazing job on our project. We doubled the square footage of our house adding a second story. They were easy to work with and completed the project on time within budget. We would highly recommend them!
Turn Your Kitchen Into The Perfect Family Gathering Place