Home Additions In Millbrae
Expand Your Home To Fit Your Growing Family
Building a better future for families in Pacifica, the Bay Area, the Peninsula, and surrounding areas for more than 35 years
More Room For Making Memories
As the years go by, your home can start to feel a little smaller and more tight-knit than it once did. With your family growing, you might be searching for a bigger place to spread the love. Maybe you don't have an easy answer as to where you will move next, or maybe the thought of such a big change makes you hesitate.
But what if you didn't have to move? What if you could expand your current home instead with additions that add space and comfort? Imagine waking up in a home with room for everyone to break bread together or setting up a home office so that distractions are few and far between.
With our expertise and craftsmanship, we'll help make sure your home is the perfect haven for creating memories and sharing the love for years to come.
Most popular home addition upgrades include:
Unleash Your Creativity With Extra Space to Work And Play
Home additions are a great way to create extra space and add calmness to your home. Whether you work from home or just want to make room for activities that bring you joy, home additions can be the perfect solution.
Make home your haven–step away from the busy city life and feel at ease in a home made for relaxation. Home additions allow you to experience the full comfort of home by adding an office for productivity, a home gym for exercise, or even an art studio for discovering new creative outlets.
Gain control over your home environment and let it become the center of happiness and mindfulness with help from Home Pride Construction.
Our simple process is meant to give you peace of mind through every step of creating your new home addition.

Call us or fill out our form and describe your ideas as best as you can. Don't forget to include a few pictures as well, so that we can fully understand your vision.
We'll get back to you with a phone consultation to talk more about your home addition.

We'll come to your place and assess the space you want to transform. We'll take measurements and discuss the budget, timeline, and design aspects of your project.
Once every detail is set, we get to work and bring your ideas to life.

Step 3. Enjoy Your Extended Home
Now that your house finally looks like what you've dreamt of all along, it's time to cherish it with your friends and loved ones.
Gather everyone together and celebrate life in a home that represents you.
Throughout our years in the industry, we've seen firsthand just how important a home is to a person's lifestyle and quality of life. It's where you gather your whole family and spend the most important moments in your life. We are committed to creating the space you've always wanted with master design, craftsmanship, and professionalism.
Includes renovating a portion of a single floor with new flooring, fresh painting, minor layout changes, and a basic kitchen and bathroom remodel.
Includes a full home renovation with new electrical, new plumbing, kitchen and bathroom remodel, and layout changes.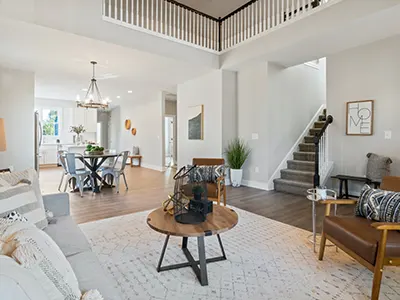 Includes a full home renovation with structural changes, kitchen renovation, and renovation of multiple bathrooms. Also includes adding more square footage to the basement or garage and building an addition. It may include excavation work.
*Prices are averages and may change depending on the size of the space you want to create or redesign, your choice of materials, amenities, finishes, and final touches. You'll receive an exact quote for your unique home addition after the in-house consultation.
Happy Homeowners Like You Say…
Through our work, we get to know our clients and meet their highest expectations and desires. Over the years, we've proved that high-quality work can only result from excellence and a high level of commitment. Here's what our happy customers say about us:​
Home Pride Construction did an amazing job on our project. We doubled the square footage of our house adding a second story. They were easy to work with and completed the project on time within budget. We would highly recommend them!
Home pride construction takes all the guesswork out of home improvement. Rick Lee and his team take a no-nonsense approach to all projects big or small. My husband and I were fortunate to purchase a home for a reasonable price last year in Pacifica. Well, we quickly discovered why: the house needed a ton of work! With the help of Rich our roof was replaced, interior walls and exterior painted with new siding, new insulation installed, garage door replaced, doors updated, sun tunnels installed to increase natural light and house disinfected.
Rich is flexible and straightforward about price and is insightful about design. He offered multiple ideas about how to source materials within our budget so that we did not have to compromise the final outcome when funds were limited.
The house truly is our sanctuary now: less stucco box and more craftsman charm. Neighbors still come by and tell us they cannot believe the transformation. We would recommend Home Pride Construction for any work. In fact, our next-door neighbors are looking forward to a kitchen/living room remodel this month.
Rich and the team did an amazing job on our major home remodel, and even managed to finish ahead of schedule. We expanded and relocated our kitchen, added a master bathroom, office, closets, and a deck, and refinished just about every room in the house. We're enjoying our ""new"" house immensely and can't recommend this team highly enough.
Every team member I met was courteous, professional, and excellent at their job.
Rich and Rick kept us in the loop throughout the project, were always honest and up-front, explained everything to us patiently, and worked alongside us to make sure the house was exactly what we wanted.
Add More Space For Everyone To Enjoy