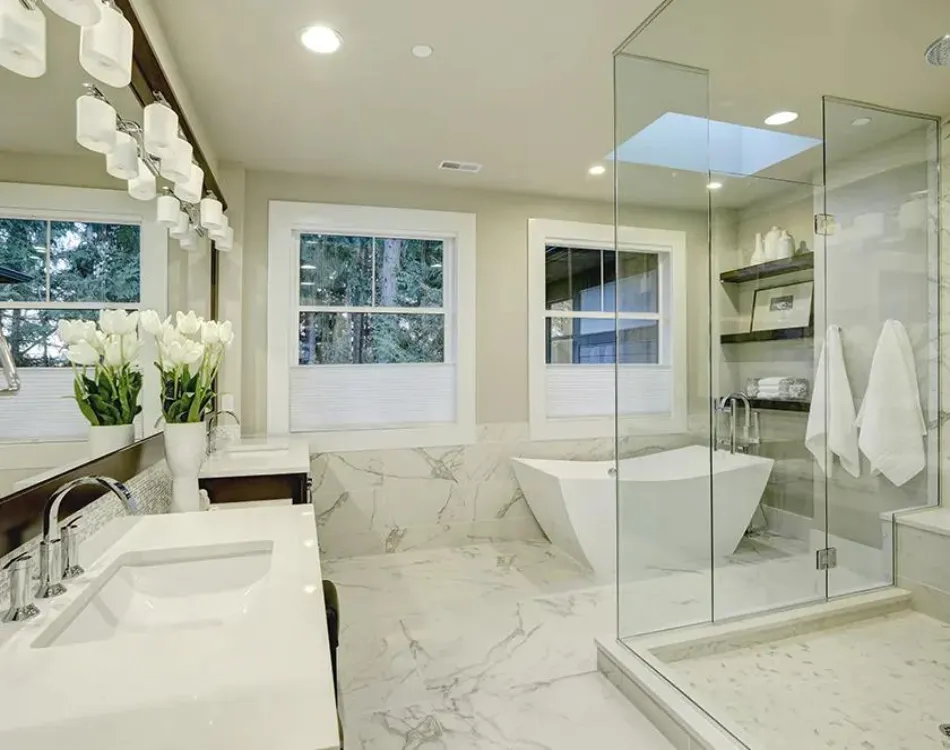 Does your Millbrae bathroom feel outdated and drab? Are you looking for modern Millbrae bathroom remodeling ideas that will bring a sense of comfort and style to your family home?
If so, then you're in luck! In this blog post, we'll cover some of the best modern bathroom remodeling ideas that will enhance your family's enjoyment of their space.
By the end of this article, you'll have several inspiring ideas of how to remodel your bathroom in Millbrae to make it more inviting, functional, and attractive.
17 Bathroom Remodeling Ideas
Here are 17 creative and stylish bathroom remodeling ideas that can transform even the most tired of bathrooms into a relaxing, luxurious retreat.
1. Move The Shower Or Bath To The End Wall
Many bathrooms feel cramped simply because of where the shower or bath is located. One of the best ways to make a big difference in your master bathroom is by moving the shower or bath to one of the end walls.
This will create an open and spacious feeling in the room while making it easier to access your shower. It adds interest and depth to the space, as well as provides you with more design opportunities.
You can also use glass or acrylic panels instead of a traditional shower curtain to provide even more openness. Be sure to check out this other article if you are looking for more shower remodeling ideas.
2. Walk-In Showers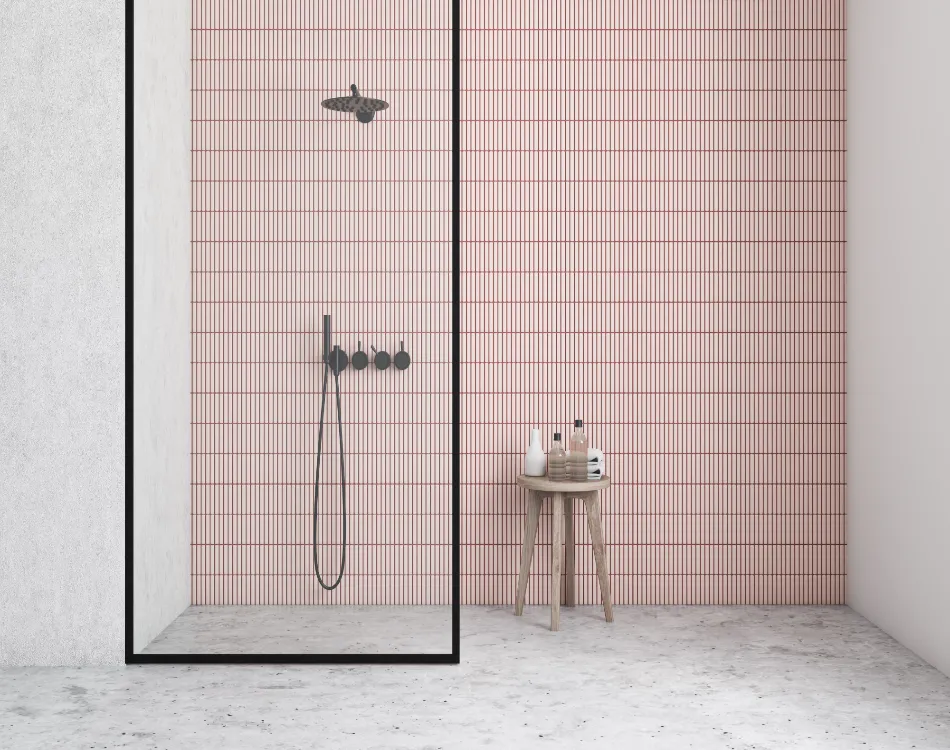 For a contemporary look, opt for a walk-in shower instead of a traditional tub-and-shower combo. Walk-in showers have become increasingly popular over the years due to their minimalistic style and easy access. They also open up more space in small bathrooms, so they don't feel cramped.
They can be built with tile for a modern appeal or with stone for a more natural look. A walk-in shower can also be outfitted with multiple body sprays, rain heads, steam systems, and other features that make your bathroom experience even more enjoyable.
3. Arched Shower Entry
Another bathroom remodeling idea is an arched shower entry which provides a unique look while still allowing enough space for tall people. It also gives you plenty of room for installing shelves and other storage solutions within the archway itself.
It also looks especially nice when combined with an all-glass enclosure that lets natural light into the shower area. Bonus points if you have an arched doorway to your bathroom that you can match with your arched shower entry.
4. Freestanding Bathtub
A freestanding bathtub is another great way to modernize your bathroom while adding an element of luxury and sophistication. Freestanding tubs come in a variety of shapes, sizes, colors, and materials, so you can always find one that fits perfectly into your existing décor scheme.
Plus, they can be placed anywhere in the room for maximum flexibility when it comes to layout design. Just keep in mind that reconfiguring your bathtub plumbing can increase how long it takes to complete a bathroom remodel.
5. Open Up More Space
Sometimes all a bathroom needs to give it an entirely new feel is more space. If you want to maximize floor space in your bathroom, consider opening up more space by doing away with unnecessary fixtures, such as cabinets or shelves that take up valuable square footage.
You can also use moveable carts or baskets instead of bulky cabinetry, which will give you extra storage without taking up too much room. And if you have two people using the same bathroom at once, opt for a double vanity instead of individual sinks, which will save on countertop real estate while allowing both people enough space to get ready at once.
6. Wall Niche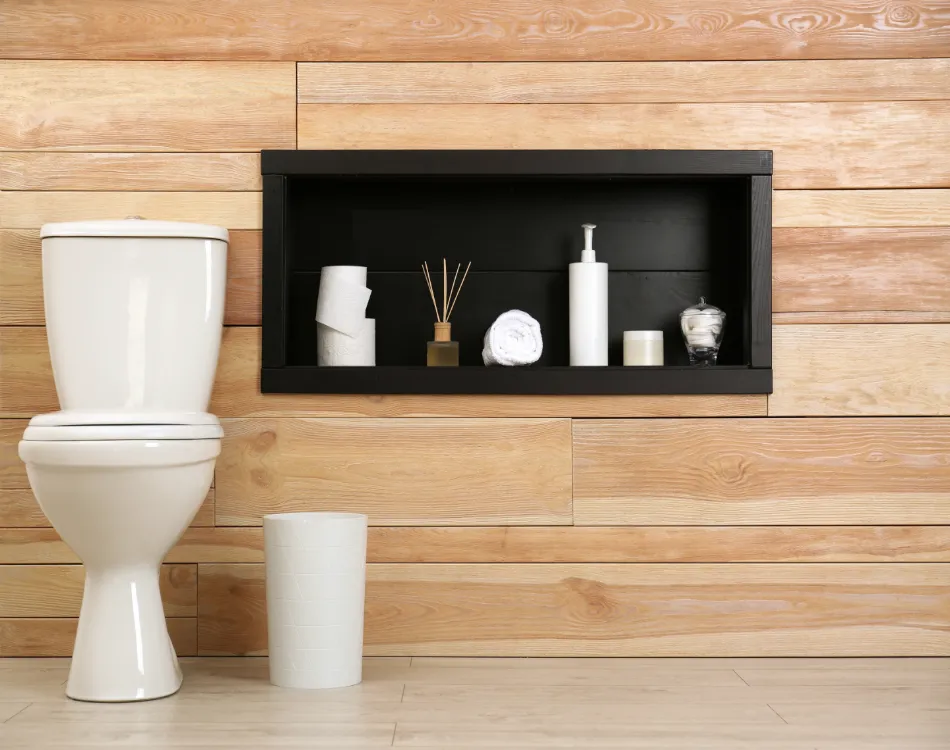 For those who love minimalism, consider installing wall niches in place of bulky shelving units or cabinets. Wall niches give you extra storage while freeing up floor space and wall space and creating an interesting visual effect in the room.
They're easy to install and come in different sizes and shapes, so you can find one that fits your design needs perfectly. You can also install wall niches in your shower or bath area to create extra space for all your bath accessories.
7. Floating Vanity
Floating vanities add a modern touch to any bathroom while still providing ample storage space for all your essentials. A floating bathroom vanity can also help make a small bathroom look bigger by opening up more floor space and making the room appear larger than it actually is. Floating vanities come in a variety of styles and colors, so you can find one that fits your personality perfectly.
8. Double Vanity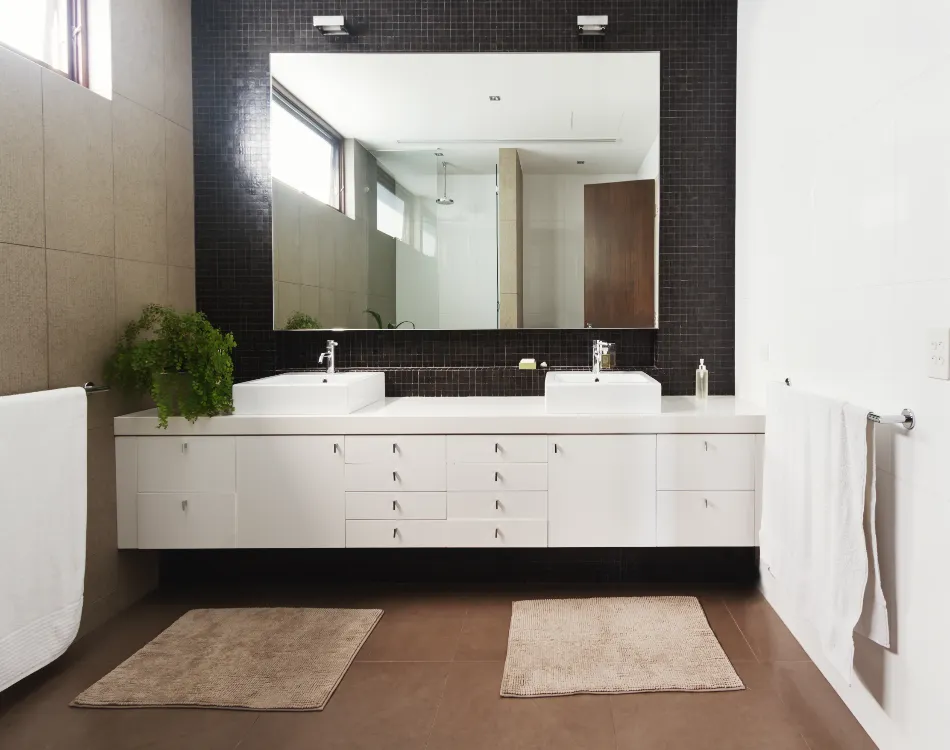 A double vanity is perfect for larger bathrooms and adds a luxurious feel to the space. It also provides plenty of storage and counter space for all of your daily needs.
If you have a large family, then a double vanity is essential for keeping everyone's belongings organized without taking up too much space in the room. Double vanities come in various sizes and styles, so you can find one that fits both your family's needs as well as your preferred design aesthetic.
9. Vibrant Cabinet Colors
Cabinets are an important part of any bathroom design and can really set the tone for the entire room. Instead of opting for a traditional all-white color scheme, add some life to your space with vibrant cabinet colors.
Instead of just using the same color throughout, consider using vibrant colors such as blues and greens to add an unexpected pop of color or even classic black or white for a timeless look. You could also paint them in shades of pink or even yellow and peach. This will give the room a unique and eye-catching look that is sure to be a conversation starter!
10. Chic Mirror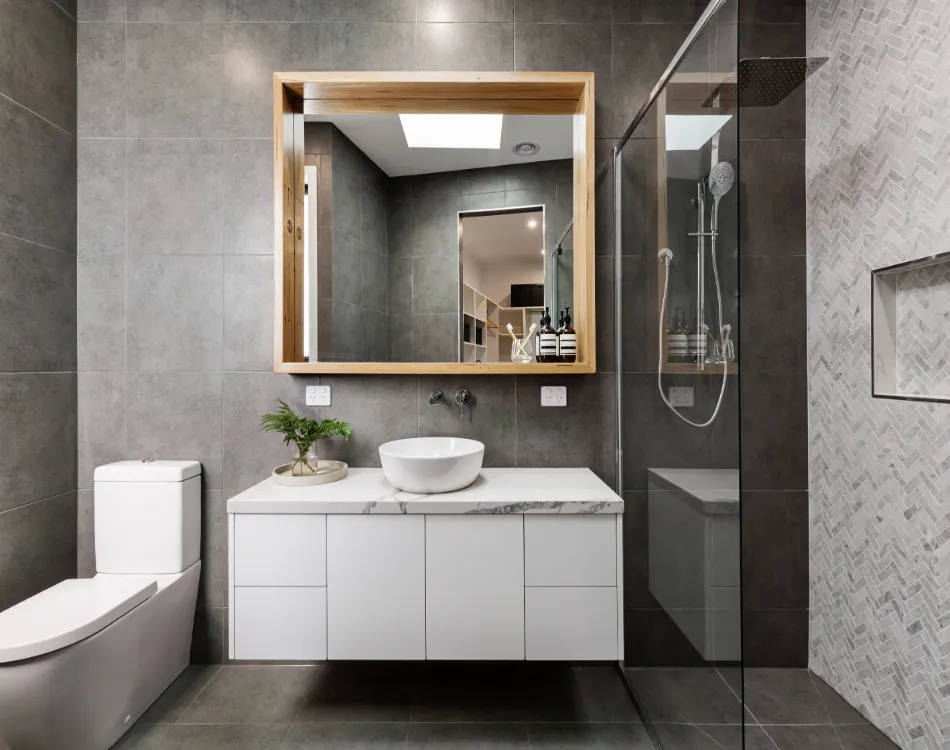 Bathroom mirrors are an essential element in any bathroom design and can be used to create a focal point in the room. Add a chic mirror to your space for an instant upgrade. Mirrors can be framed or unframed and come in all sorts of shapes and sizes. Best of all, mirrors can help create a sense of more space and openness in smaller bathrooms.
Choose a beautiful frame with intricate detailing, or go with something more modern, like a frameless mirror, to bring out your unique style. Or save money by customizing a store-bought mirror with your own design elements. When selecting one for your bathroom, remember to measure first to make sure it fits perfectly on the wall without taking up too much space.
11. White Countertop With Black And Gold Accents
White countertops are classic favorites, but why not add some extra flair? Another way to add a touch of sophistication to your bathroom is by installing a white countertop with black and gold accents. This combination is perfect if you want to give the room an elegant yet modern feel while still providing plenty of storage options beneath the countertops.
12. Exciting Floor And Wall Tile Patterns
Tiles come in so many shapes, sizes, colors, and textures that it's easy to find something unique that will bring life into your bathroom. From herringbone patterns on the floor to geometric shapes on the walls, you can create an eye-catching feature wall or floor that will be sure to wow guests.
13. Large Subway Tile
Subway tile is another great option for adding texture and interest to any bathroom design. Consider using large format subway tiles as opposed to smaller ones, as they will have more impact on the overall design scheme.
14. Cool Tone Colors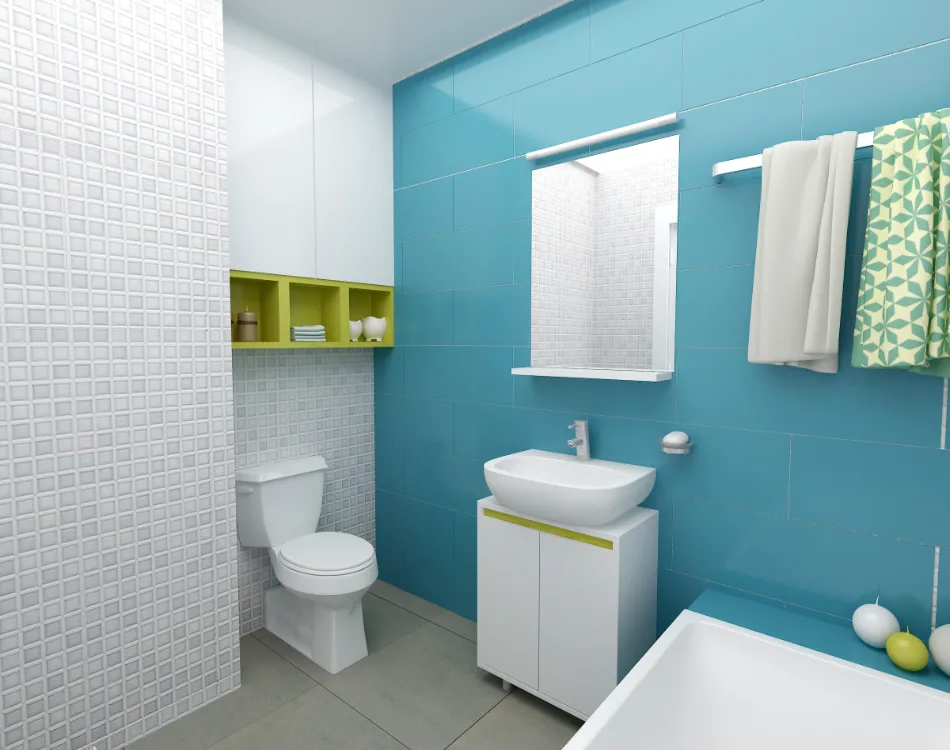 If you're looking for a calming atmosphere, then cool tones are definitely what you need. To tie everything together nicely, choose cool tone colors like blues and greens as well as neutrals like grays and taupes throughout your space. This will create an airy vibe that is perfect for relaxing after long days at work or school.
15. Nature-Print Wallpaper
Give your walls some added texture with nature-print wallpaper in shades like sage green or light blue tones. This type of wallpaper will help bring the outdoors inside while still maintaining a modern aesthetic that looks stylish in any bathroom. Nature-inspired wallpaper can instantly transform a bathroom with a calming vibe that won't ever go out of style.
16. Fireplace
Want something really special? Consider adding a fireplace to your design. Fireplaces are becoming increasingly popular in bathrooms as they provide both warmth during cooler months as well as an inviting ambiance year-round–all without taking up too much precious square footage in this smaller room of the home.
17. More Windows
Last but not least, don't forget about windows! Installing additional windows (or even replacing outdated ones) can help bring natural light into dark spaces, which makes them appear larger than it actually is–and who doesn't want that?
Natural lighting plays an important role in creating ambiance, so adding more windows can really open up the space while making it appear larger than it actually is. If possible, install floor-to-ceiling windows for an even more dramatic effect.
Home Pride Construction: The Bathroom Remodeling Experts
Whether you're looking for something subtle or something bold, there are plenty of modern bathroom remodeling ideas available to help you create the perfect space for your family's needs. With careful planning and execution, any one of these ideas could help you turn your ordinary bathroom into something extraordinary.
If these ideas have inspired you or if you have any questions, our team would be happy to help make your vision a reality. Give us a call or fill out our contact form today and one of our experts in Millbrae will be in touch.