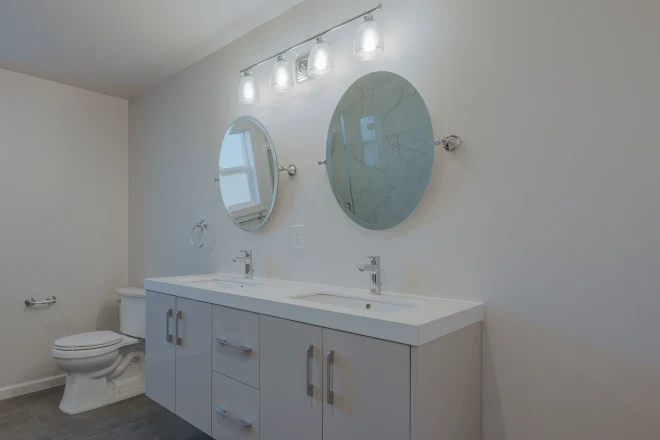 Do you ever find yourself daydreaming about stunning vanity styles that could transform your bathroom? Have you ever wondered what type of vanity would best suit your unique taste for your bathroom remodeling project?
In this blog post, we'll take you on a journey through 15 beautiful bathroom vanity styles, each with its own distinctive charm.
By the time you're finished reading, you'll have a deeper understanding of the perfect vanity style for your home, be it a master bathroom or a powder room.
1. Floating Vanity With Offset Sink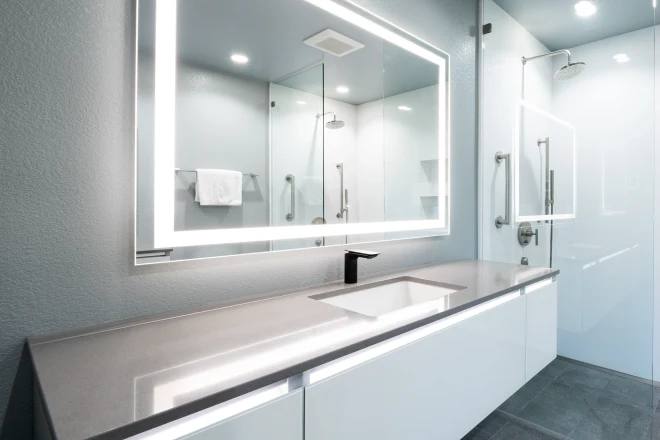 A floating vanity with an offset sink creates a sleek and modern look, perfect for small or minimalist bathrooms. By suspending the vanity from the wall, you free up valuable floor space and create a more open feel. The offset sink adds visual interest and practicality, allowing for extra counter space on one side of the sink.
This design can be complemented by modern bathroom ideas like floor tile patterns, contemporary shower designs, and minimalist freestanding tubs.
If you'd like more general bathroom remodeling ideas, check out our blog post on bathroom remodeling ideas for the modern family.
2. Farmhouse Vanity
The farmhouse vanity is a timeless and charming option, ideal for those who appreciate rustic and cozy design. With its natural wood finish and classic shaker-style cabinetry, the farmhouse vanity adds warmth and character to any bathroom.
To complete the farmhouse look, consider incorporating vintage-inspired cabinet pulls, a clawfoot bathtub, and charming medicine cabinets for additional storage.
3. Island Vanity
We've all heard of kitchen islands, but have you ever considered an island vanity for your bathroom? An island vanity offers a luxurious and unique solution for larger bathrooms. Positioned in the center of the room, the island vanity acts as a focal point and provides ample counter space and storage.
This style also offers the possibility of incorporating seating, transforming your bathroom into a relaxing retreat. Pair it with a freestanding tub and a separate dressing table for an ultimate master bathroom experience.
4. Vessel Sink Vanity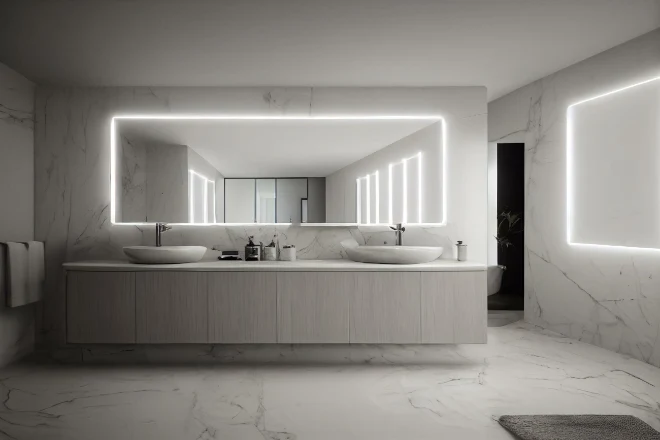 The vessel sink vanity showcases a bold and eye-catching design. With a sink that sits on top of the countertop, this style adds an artistic and contemporary touch to your bathroom. Available in a variety of materials and shapes, the vessel sink vanity can be customized to suit your personal taste.
Consider matching the vessel sink with modern bathroom ideas like wall-mounted faucets, geometric floor tiles, and frameless shower enclosures. Or, try one of our other creative shower remodeling ideas.
5. Double Vanity With Bench Seating In Between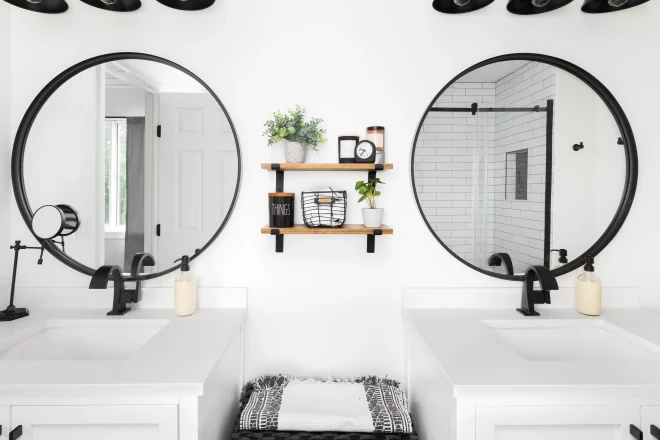 The double vanity with bench seating in between offers both style and function. With two separate sink areas and a cozy bench in the middle, this vanity is perfect for couples or families who need extra space to get ready in the morning. The bench seating also provides a comfortable spot to sit while you pamper yourself. Enhance the practicality of your space by adding built-in medicine cabinets above each sink for additional storage.
6. Upcycled Antique Vanity
For those who love unique vintage design, an upcycled antique vanity is an excellent choice. Repurposed from a beautiful antique piece of furniture, this vanity style adds character and charm to your bathroom.
Each piece is one-of-a-kind, ensuring that your vanity will be truly unique. Complement this style with a clawfoot bathtub, vintage-inspired cabinet pulls, and a classic floor tile pattern to create a cohesive design.
7. Concrete Vanity
A concrete vanity brings an industrial and modern touch to your bathroom. Known for its durability and versatility, concrete can be molded into various shapes and sizes, allowing for a custom vanity design. The raw, natural texture of the concrete adds a cool and edgy vibe to your space. Pair it with a sleek, glass-enclosed shower and modern bathroom ideas like minimalist floor tiles for a truly contemporary space.
8. Vanity With Underside Lighting
A vanity with underside lighting adds a touch of sophistication and ambiance to your bathroom. The soft glow from the lights not only provides visual interest but also serves a practical purpose by illuminating the floor and making it easier to navigate in the dark.
This style works particularly well in modern bathroom designs, where the addition of under-counter LED lighting can create a striking effect. Complement this vanity style with minimalist cabinet pulls and sleek medicine cabinets for a cohesive look.
9. Vanity With Baroque Style
The Baroque-style vanity exudes elegance and opulence. With intricate details, ornate carvings, and a rich finish, this vanity style is perfect for those who appreciate the grandeur of the past. The Baroque vanity is sure to make a statement in your bathroom. Enhance the luxurious feel of the space by adding a freestanding tub, opulent floor tiles, and a grand chandelier above the bathtub.
10. Natural Wood Vanity For Warmth
A natural wood vanity adds warmth and a touch of nature to your bathroom. With its organic textures and earthy tones, this vanity style creates a serene and inviting atmosphere. Choose from a variety of wood species and finishes to find the perfect match for your bathroom design. Complete the look with earth-toned floor tiles, a glass-enclosed shower, and matching wooden medicine cabinets for a harmonious design.
11. Double Vanity With Linen Tower In Between
The double vanity with a linen tower in between provides a practical and stylish solution for shared bathrooms. With ample storage space for towels, toiletries, and other essentials, this vanity style keeps your bathroom organized and clutter-free. Consider adding organizers in the tower to keep items organized and maintain a polished look.
12. Wall-to-Wall Bathroom Vanity
A wall-to-wall bathroom vanity is an excellent option for those looking to maximize storage and counter space in their bathroom. By spanning the entire length of the wall, this vanity style offers an expansive area for all your bathroom necessities. This design can be tailored to match any aesthetic, from modern and minimalist to traditional and classic. Complement the wall-to-wall vanity with matching floor tiles, a freestanding tub, and coordinating medicine cabinets for a seamless look.
13. Separate Twin Vanities
Separate twin vanities are a great choice for couples or families who want to create individual spaces within the bathroom. With two separate sink areas, each person has their own space to get ready in the morning.
This design not only provides a sense of personal space but also helps to keep the bathroom organized. Enhance the functionality of the separate twin vanities by incorporating built-in medicine cabinets and stylish cabinet pulls. Or try one of our easy bathroom upgrades that will still make a big impact.
14. Vanity With Wall-Mounted Faucet Fixtures
A vanity with wall-mounted faucet fixtures offers a clean and streamlined look, perfect for modern and minimalist bathrooms. By mounting the faucets directly to the wall, you free up valuable counter space and create a sleek appearance. This style also allows for easier cleaning and maintenance, as there are fewer crevices for dirt and grime to accumulate.
15. Veined Natural Stone Vanity
A veined natural stone vanity adds an air of luxury and sophistication to your bathroom. With its unique patterns and rich colors, each stone vanity is a true work of art. Choose from a variety of stone options, such as marble, granite, or quartzite, to find the perfect match for your bathroom design.
Home Pride Construction Can Bring Your Dream Bathroom To Life
Exploring these beautiful vanity styles can help you discover the perfect addition to your bathroom, whether you prefer a modern, rustic, or luxurious aesthetic.
By selecting the right vanity style, you can elevate the look and feel of your space, creating a bathroom that you'll love for years to come.
And remember, Home Pride Construction can help bring your dream bathroom to life with our expert remodeling services. Ready to get started on your bathroom transformation? Fill out our contact form today, or give us a call!