Kitchen Remodeling FAQs
1. What's The Difference Between A Kitchen Remodel And A Kitchen Renovation?
A kitchen remodel involves changing the layout, design, or structure of the space, while a kitchen renovation typically refers to updating and improving the existing features without making significant structural changes.
For example, choosing new kitchen island lighting is a low-impact change you can make.
In other words, a remodel transforms the kitchen, whereas a renovation refreshes it.
2. How Long Does A Kitchen Remodel Take?
The duration of a kitchen remodel depends on the project's complexity and scope. A minor remodel, such as updating the cabinets and countertops, may take a few weeks.
A more extensive remodel, involving structural changes or custom-made features can take several months. It's essential to work closely with your contractor to establish how long it will take to remodel your kitchen.
3. How Much Does It Cost To Remodel A Kitchen?
The cost of a kitchen remodel varies greatly depending on the project's size, materials, and labor.
According to Remodeling Magazine's 2023 Cost vs. Value Report, in the greater San Francisco area, a minor kitchen remodel can start around $25,000 while a major remodel may cost anywhere from $73,000 to $150,000 or more.
However, keep in mind that the lowest estimate ($25K) is for a small kitchen (200 square feet) with standard upgrades. If you want custom cabinets, premium appliances, and upscale finishes for your kitchen remodel, you can expect to spend at least $50,000.
This is why creating a detailed budget before starting the remodeling process is essential to ensure you stay within your financial limits.
A good rule of thumb is to spend between 7-15% of your home's value on remodeling work. So if your home is worth $500,000, you could budget between $50K and $125K for a kitchen remodel.
You can see our kitchen remodeling pricing tiers here, as well as additional details about what features are included in each tier.
Factors Affecting Kitchen Remodel Cost
Project scope: The extent of the changes you want to make will significantly impact the overall cost.
Materials: The type and quality of materials you choose will affect the price. For example, choosing natural stone countertops like granite or quartz can be more expensive than laminate options. You can learn more about the best kitchen countertop materials here.
Labor: The cost of professional labor for your project can vary depending on your location, contractor, and project complexity. For example, moving plumbing fixtures will add significantly to your final cost.
Appliances: Upgrading to high-end appliances will increase the overall cost of your remodel.
4. What Are The Stages Of A Kitchen Remodeling Project?
A typical kitchen remodeling project involves the following stages:
Planning and design
Demolition
Structural changes (if needed)
Plumbing, electrical, and HVAC updates
Drywall and painting
Cabinet and countertop installation
Flooring installation
Appliance installation
Finishing touches and clean-up
6. Does A Kitchen Remodel Increase The Value Of My Home?
Yes, a well-executed kitchen remodel can significantly increase the value of your home.
According to Remodeling Magazine's 2023 Cost vs. Value Report, homeowners in the greater San Francisco area can expect to recoup anywhere from 34% to 110% of their investment in a kitchen remodel when they sell their homes.
A beautifully remodeled kitchen can also be a significant selling point for potential buyers, as well as a lifestyle benefit for the homeowner.
7. How Do I Finance A Kitchen Remodel?
There are several financing options available for a kitchen remodel, including:
Personal loans
Home equity loan
Home improvement loans
Contractor financing options (if offered)
Researching and comparing these options is essential to find the best fit for your financial situation.
8. What Are Some Inexpensive Upgrades I Can Do Instead Of A Full Kitchen Remodel?
If a full kitchen remodel is not within your budget, consider smaller upgrades such as:
Painting or refinishing cabinets
Updating hardware and fixtures
Installing a new backsplash
Replacing countertops
Adding new lighting
Upgrading appliances
These smaller changes can still make a significant impact on the overall appearance and functionality of your kitchen without breaking the bank.
Best of all, you can do some of these smaller improvements yourself. For example, you can learn how to install a tile backsplash here or how to replace your kitchen sink here.
9. How Can I Save Money On A Kitchen Remodel?
To save money on a kitchen remodel, consider the following tips:
Set a realistic budget and stick to it: Establishing a budget from the beginning helps you prioritize expenses and avoid overspending.
Prioritize your needs and wants: Focus on essential changes that will improve the kitchen's functionality and save the less critical cosmetic updates for later.
Shop around for the best prices on materials and fixtures: Compare prices from different suppliers and look for sales or discounts to get the best deals.
Do some of the work yourself, if possible: Tackling tasks like painting or installing hardware can save you money on labor costs.
Use less expensive alternatives to high-end materials: Opt for budget-friendly materials that mimic the look of more expensive options, such as laminate countertops that resemble natural stone.
Work with a reputable contractor: A skilled contractor can help you avoid costly mistakes and ensure the project stays on budget.
10. Does A Kitchen Remodel Require A Permit?
Permit requirements for a kitchen remodel vary by location and the scope of the project. Generally, if your remodel involves structural changes, electrical or plumbing updates, or significant alterations to the space, you will likely need a permit.
Check with your local building department to determine the specific requirements for your project. If you are using a contractor, they will typically pull any required permits for you.
11. Is It Less Expensive To Paint Or Reface Kitchen Cabinets?
Painting kitchen cabinets is usually less expensive than refacing them. However, refacing can provide a more significant transformation, as it involves replacing the cabinet doors and drawer fronts with new ones.
Painting may be the more cost-effective option if your cabinets are in good condition but need an update.
12. Can I Live In My Home During A Kitchen Remodel?
Yes, it is possible to live in your home during a kitchen remodel. However, it can be inconvenient and challenging due to the disruption caused by construction, limited access to the kitchen, and potential noise and dust.
To make living in your home during a remodel more manageable, consider the following tips:
Set up a temporary kitchen area with essential appliances, such as a microwave, toaster oven, and mini-fridge.
Keep non-perishable foods and disposable plates, cups, and utensils readily available.
Plan for easy-to-prepare meals that do not require extensive cooking.
Communicate with your contractor to establish working hours and minimize disruptions.
Keep the construction area sealed off from the rest of the house to minimize dust and debris.
By being prepared and adapting to the temporary changes, you can live in your home during a kitchen remodel and eagerly anticipate the beautiful new space that awaits you.
13. How Do I Choose The Right Contractor For My Kitchen Remodel?
Finding the right contractor is crucial for a successful kitchen remodel. Here are some tips to help you choose the best professional for your project:
Ask for recommendations: Ask friends, family, or neighbors who have had kitchen remodels.
Research online reviews and ratings: Check ratings on websites like Houzz or Yelp.
Verify credentials: Make sure the contractor is licensed, insured, and has any required certifications.
Request quotes and compare: Get estimates from multiple contractors and compare their prices, scope of work, and timelines.
Review their portfolio: Look at the contractor's past projects to ensure they have experience in kitchen remodeling and can achieve the style you desire.
Trust your instincts: Ultimately, choose a contractor with whom you feel comfortable and can communicate easily. It's essential to have a good working relationship to ensure a successful kitchen remodel.
14. What Are Some Popular Kitchen Design Trends?
When planning your kitchen remodel, it's a good idea to familiarize yourself with the latest design trends. Incorporating some of these elements can help you create a modern and stylish kitchen that meets your needs.
Some top kitchen design trends include:
Open shelving: Open shelves can create a more spacious and airy feel while also providing easy access to frequently used items.
Smart appliances: Integrating smart technology, like Wi-Fi-enabled ovens or voice-controlled lighting, can add convenience and functionality to your kitchen.
Quartz countertops: Quartz has become a popular countertop material due to its durability, low maintenance, and a wide variety of color options.
Bold backsplashes: Adding a colorful or patterned backsplash can create a stunning focal point in your kitchen. Or try a natural stone slab backsplash for a more modern look.
Two-tone cabinets: Combining two different cabinet colors or finishes can add visual interest and depth to your kitchen design.
Sustainable materials: Choosing eco-friendly materials like reclaimed wood, recycled glass, or bamboo can help reduce the environmental impact of your kitchen remodel.
Check out more popular kitchen design trends from 2023 here!
15. How Do I Prepare For A Kitchen Remodel?
Before embarking on your kitchen remodeling journey, it's essential to be well-prepared to ensure a smooth and successful project. Here's a checklist to help you get started:
Establish your goals: Determine what you want to achieve with your kitchen remodel, such as improved functionality, updated style, or increased home value.
Set a budget: Create a detailed budget, accounting for materials, labor, and contingency funds for unexpected expenses.
Research design trends and ideas: Browse websites, magazines, and social media platforms like Instagram for inspiration and to help you identify your preferred kitchen style.
Plan your layout: Work with a designer or use online tools to create a functional and efficient kitchen layout.
Choose materials and finishes: Select your preferred cabinets, countertops, flooring, and other finishes that suit your style and budget. You can learn how to choose the best flooring for your kitchen here.
Obtain necessary permits: Check with your local building department to determine if permits are required for your kitchen remodel and apply as needed.
Hire a reputable contractor: Choose a contractor with a proven track record and positive reviews to ensure a successful remodel.
Prepare your home for construction: Clear the kitchen area, set up a temporary kitchen space, and establish communication with your contractor to minimize disruptions.
Following this checklist can help you navigate the kitchen remodeling process with confidence and achieve the kitchen of your dreams.
Let Home Pride Construction Help You Create Your Ideal Kitchen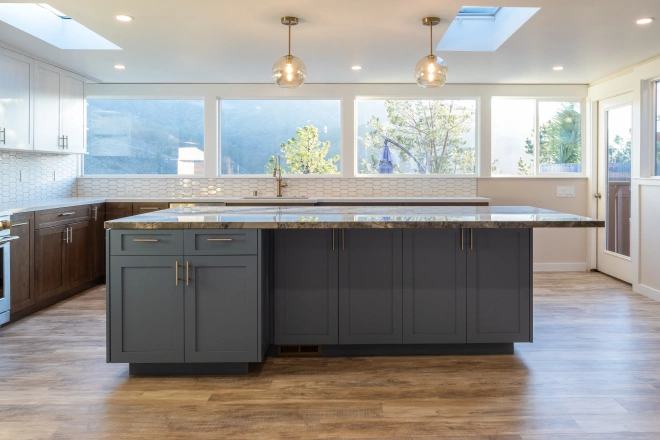 Armed with this wealth of knowledge and inspiration, you are now ready to embark on your kitchen remodeling journey! From knowing the difference between a remodel and a renovation to learning what popular design trends are trending, there is so much to unpack when it comes to planning a kitchen remodel.
Get started today by filling out our contact form so we can help make your dream kitchen vision come alive!